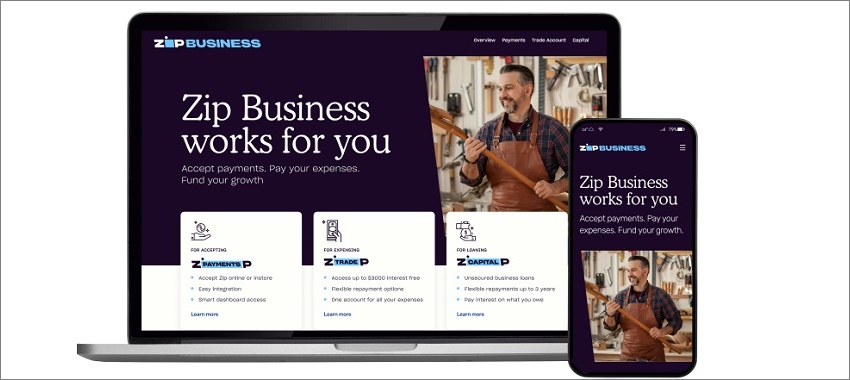 Zip has confirmed that it is slimlining its SME lending arm, Zip Business, and withdrawing its trade finance products.
ASX-listed buy now, pay later (BNPL) company Zip Co Ltd (Zip) has confirmed that it will slimline its small-business lending operation Zip Business.*
Zip Business first launched into market in 2020 following Zip's acquisition of Spotcap Australia and New Zealand.
Following the acquisition and a rebrand in 2021, it began offering SMEs BNPL for checkout payments of up to $3,000 (Zip Business Trade) and a line of credit that provided SMEs with between $3,000 and $150,000 (Zip Business Trade Plus).
However, these two products will be closed as of 1 September 2022.
New applications for these two products are no longer being accepted.
Zip Business Capital – its unsecured business loan product ranging from $10,000 to $500,000 – is not impacted by the change. It will continue to be offered under the Zip Business brand.* 
Strategy being 'refined'
Speaking to The Adviser about the move, Matthew Abbott, Zip's director of corporate affairs, stated: "Zip's operating environment has changed significantly and in response we have refined our strategy in order to accelerate our path to global profitability. 
"With this in mind, we have made some decisions to reprioritise resources to focus on delivering sustainable profitability in our core ANZ market," Mr Abbott said.
Customers with active Zip Business Trade or Trade Plus Accounts in good standing will be able to use the accounts for new purchases up to and including 31 August 2022.
Any remaining amounts due on the account after this closure date will be deducted from the account on the regular repayment schedule and repayments will continue as normal until the total amounts owing have been paid off in full.
Once the total amount owing has been reduced to zero, the Zip Business Trade or Trade Plus Account will be closed.
Mr Abbott said: "At Zip, a business customer can still use their personal Zip Money or Zip Pay account for their everyday business spending. They will just need to keep a close record of what transactions were for business purposes so they can report back to their bookkeeper or accountant come tax time.
"Zip is staying focused on the things we can control, pursuing sustainable growth, right-sizing our global cost base and accelerating our path to profitability. 
"Zip's underlying business is strong and the opportunity ahead of us remains significant," highlighting that the company had 11.5 million "engaged customers" globally and 86,000 merchants on the platform.
Mr Abbott clarified that while the Zip Business Trade products will be mothballed, there were several alternatives in the market.
"Brokers might be more familiar with Zip's other business product, Zip Business Capital, which might be a better alternative for customers," he said.
"Business owners can access up to $500,000 unsecured funding to draw down as they need. They can get a decision within 24 hours and repay their loan over five years."
The move comes despite Zip Business reporting strong growth earlier this year.
Zip Business' performance in Australia over the second quarter of the 2022 financial year was one of record growth, with the business lender reporting distinct upticks in its revenue, transaction volumes and customer base.   
Released as part of Zip Co's financial results for the FY22 quarter, the lending subsidiary reported a revenue figure of $4.3 million – an increase of 13 per cent compared to the previous quarter, and 115 per cent to the previous year. 
Equally, transaction volumes, which came to $37 million, marked a 9 per cent rise month-on-month, but a 281 per cent increase to the same period during the 2021 financial year. 
According to the lender, "record transaction volumes" achieved in November were a driving factor for the lender's growth over this quarter, before COVID-19 restrictions introduced in December started to "considerably impact small businesses".  
Customer acquisition also increased during this period, with Zip Business, as of 31 December, reporting 11,000 customers – a rise of 13 per cent quarter-on-quarter and 633 per cent year-on-year. 
*This story was updated on 8 July to reflect that Zip Business Capital will continue to be offered under the Zip Business brand, not the Zip brand, as previously advised. Zip Business will therefore remain as a brand in market - but only offering the Zip Business Capital product.
[Related: Zip Business reports annual growth boom]