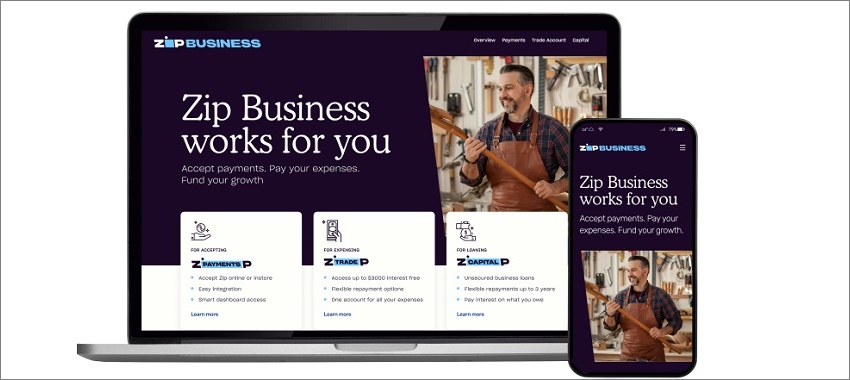 Business lender and payments provider Zip Business has rebranded as it unifies its branding across international markets and renews its brand purpose.
Zip Business, which first launched into market last year following its acquisition of Spotcap Australia & New Zealand, is part of ASX-listed buy now, pay later (BNPL) company Zip Co Ltd.
You're out of free articles for this month
It currently offers point-of-sale credit, digital payment and lending services – including Zip Business Capital, an unsecured business loan of up to $500,000.
The lender also offers SMEs BNPL for checkout payments of up to $3,000 (Zip Business Trade) and Zip Business Trade Plus, a new line of credit launched in April, which provides SMEs between $3,000 and $150,000, and is interest-free for 60 days.
Zip Business has today (16 August) rebranded, adopting a new white and pale blue logo.
Speaking to The Adviser about the rebrand, Geof Alexander, senior director at Zip Business, said that it came following the parent company's rapid expansion in the past 18 months and will unify the Zip Business offering in all markets.
He explained: "It was a year ago this month that we officially launched Zip Business [which] was designed to provide fairer, flexible and transparent payment and funding options to SMEs, allowing them to take control of their finances and grow their businesses. 
"Zip Business is a key part of the Zip Co offering. Over the last 18 months, Zip Co has grown rapidly and is now in 12 markets around the world. 
"Our rebrand is an opportunity to bring all of our international operations together under a single unified brand identity, ensuring that merchants and customers will recognise us wherever they are. 
"It's also an opportunity for us to renew our brand purpose, focusing on providing responsible products that put people at the centre – whether that's consumers or the business owners we support through our Zip Business products."
Mr Alexander added that while the lender had previously been most active in the broker space with its Capital product, it was now looking to extend its Trade product offering to brokers "so they have a variety of fit-for-purpose solutions for their SME clients looking for an everyday credit product".
"Zip Business Capital is still a core offering to brokers, and we will continue to improve our offering, most recently increasing our repayment terms from three years to five years, making us one of very few lenders to offer this flexibility," the senior director told The Adviser.
"We will continue to improve our platform, making it easier for our brokers and their clients to manage their accounts."
Looking forward, he said that Zip Business aims to keep helping businesses grow and access "flexible cash flow without unnecessary costs or hidden fees". 
"As businesses continue to grapple with the uncertainty created by COVID-19, we can be an important partner in helping business owners stay in control of their finances," he said.
"SMEs rely on brokers to find the right solutions, and so we continue our focus on improving our broker-facing platform and SME solutions to give brokers a better offering."
He concluded: "We are focused on delivering on our commitment to make Tap and Pay available on our Zip Business Trade accounts so SMEs can pay for anything, anywhere, even at stores outside of our merchant base."
[Related: Banks accused of bias against BNPL in lending process]