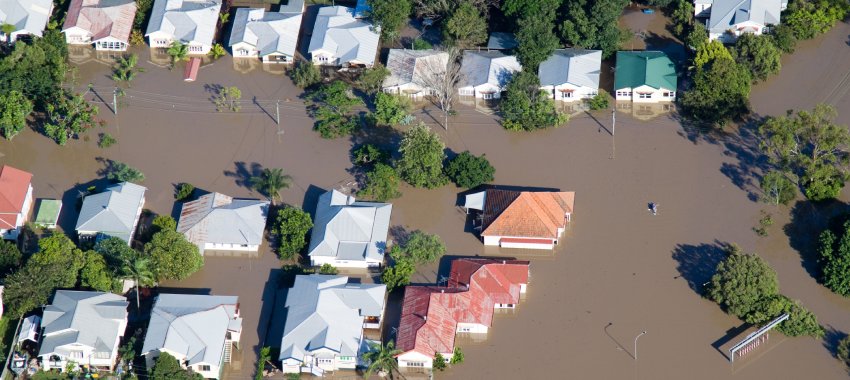 Following major flooding and significant rainfall in NSW, lenders have begun offering impacted borrowers with support.
Widespread persistent heavy rain over large swathes of NSW over the weekend and into Monday (4 July) has caused major flooding along the Hawkesbury and Nepean rivers, and caused dams to overspill.
More flooding is expected at Windsor, Lower Portland, and Wiseman Ferry on Tuesday (5 July), as severe weather warnings for damaging winds and hazardous surf are in place, with the Bureau of Meteorology (BOM) warning that there remains the risk of flash flooding and landslips.
There were 165 evacuation orders and warnings in place at the time of writing, largely impacting communities in the Illawarra, Western Sydney and Hawkesbury-Nepean areas.
With significant rainfall totals over many catchments in the past three days – and more forecast to come – some areas are expected to approach or exceed flood levels of recent events in March 2021, March 2022 and April 2022.
Given the impacts to residents and businesses, several lenders have begun offering support and relief to borrowers – including the major banks.
Lenders are urging affected customers to contact their bank as soon as possible should they require support.
ANZ
A financial relief package from Australia and New Zealand Banking Group(ANZ) is being extended to help customers and businesses affected by recent flooding in Central and South East New South Wales.
"Short-term payment relief" on home loans, credit cards, personal loans and some business loans (however, interest may still be charged during this period);
Waived fees for those restructuring business loans
Waived fees for those accessing term deposits early. 
Customers with ANZ Home and Contents Insurance may also be eligible for emergency funds and temporary accommodation.
ANZ's general manager for New South Wales, Michael Wake,  thanked "the hard-working emergency services personnel and volunteers who continue to risk their lives to keep our communities safe"
He added: "These floods have already forced tens of thousands out of their homes and businesses. We urge people to continue to monitor the ongoing situation, stay safe and look after one another...
"As the rain eases and the water subsides, we encourage customers to get in contact to see how ANZ can help them build and recover." 
CBA support
The Commonwealth Bank of Australia (CBA) outlined that it would be able to offer impacted customers:
Customised payment arrangements for home loan, credit card, personal loan and some business loans

Waiving fees and charges

Temporary overdrafts, additional loans or emergency credit limit increases (subject to credit approval)

Waiving fees and notice periods for early access to term deposits

Loan restructuring for business customers and existing loans

Waiving fees for temporary and damaged merchant EFTPOS terminals, as well as support with merchant terminal rental fees
It added that it could also assist with emergency accommodation for CommInsure customers if their home has been damaged and expedite claims for those seeking help through their home and contents insurance.
CBA's executive general manager, everyday banking, Kate Crous, said: "We know some areas have been impacted by flooding earlier this year and it's a distressing time for these communities to experience this multiple times. 
"Our thoughts are with everyone impacted by the major flooding in communities across New South Wales and we want our customers to know we are here to help. 
"Dangerous conditions like this can cause a lot of concern and we want to alleviate some of that worry by offering a range of support measures to impacted customers."
NAB
National Australia Bank (NAB) is also offering loan deferral or reduced repayment arrangements for home, personal and some business loans, as well as deferring upcoming credit card payments.
It has also said it will be waiving and/or refunding fees and charges, such as merchant terminal fees and early access fee to term deposits.
NAB's executive regional and agribusiness, Julie Rynski, said the measures provide customers access to immediate financial support.
"We know this is impacting a lot of families and businesses across NSW. We are here to help and the number one priority is to stay safe," Ms Rynski said.
"Following an incredibly wet summer, this is devastating for many farmers in NSW. Loss of top soil, livestock, fences and crops will have a significant impact on the industry.
"We are here to support all NAB customers, employees and the wider community before, during and after a natural disaster. Anyone who needs assistance or advice can contact us so we can discuss their circumstances and work out the best way to help."
Westpac and St.George offer repayment pauses and grants
The Westpac Group has said it is continuing to offer tailored support for impacted customers and small businesses, including loan deferrals for up to three months and emergency credit card relief.
Emergency support includes: 
Up to three-month repayment deferrals for affected mortgage customers and business loan customers

Up to 90 days' repayment deferrals for affected credit card customers

Fee-free loan restructuring for affected business loan customers

Discounted interest rates and waived fees on personal loans for affected customers wishing to purchase replacement goods

Waived interest rate adjustments for affected customers wishing to withdraw term deposits

A halt on all interest accrual on unsecured credit products for a period of up to three months for affected customers experiencing hardship

Up to three-month terminal access fee waivers for affected business customers with merchant facilities
Mandy Rutherford, Westpac Group's managing director, cash and transactional banking, stated: "We know this is a developing situation for residents in affected areas across New South Wales. With many evacuation orders in place, safety must be the absolute priority. When the time is right to seek assistance, we want our customers to know we're here to help.
"It's heartbreaking that many of the worst-affected areas have already been flooded a number of times this year. 
"If you've already received support, please don't hesitate to pick up the phone to talk through the options available. We'll work through a tailored solution to help you get back on your feet."
Eligible small-business customers can also apply for a $3,000 grant per customer group to help with urgent expenses or repairs through Westpac Group's $2 million flood support fund launched earlier this year.
"We know that many businesses have been hard hit, and this support remains available for customers needing urgent access to finance to assist with clean-up or repairs," Ms Rutherford said. 
Anyone requiring emergency assistance in severe weather is being advised to contact the State Emergency Service (SES) on 132 500, or call 000 (triple zero) for life-threatening emergencies.
[Related: Crossing the floodline]