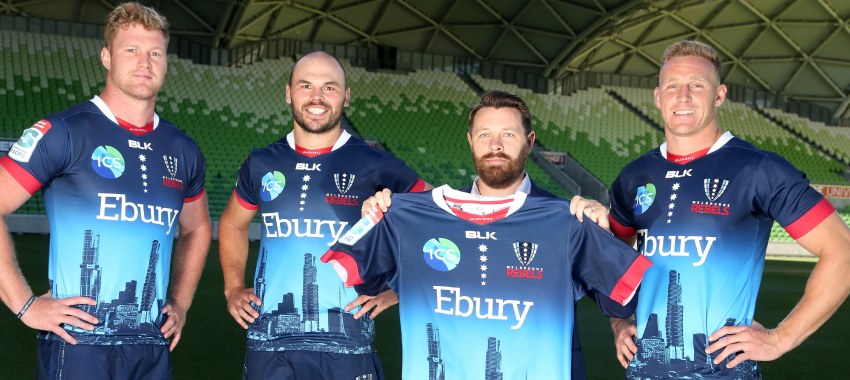 The deal will see Ebury feature on the Melbourne Rebels rugby jerseys during the Super Rugby Pacific competition for the next three years.
An agreement between the Australian professional rugby union side, the Melbourne Rebels, and the trade finance fintech Ebury has been made in the lead-up to the premier Super Rugby Pacific season, with the latter being named as the team's major partner. 
The inaugural Super Rugby Pacific competition will see 12 professional teams from Australia, New Zealand, and the Pacific participate in a single pool, 14-game regular season from mid-February to mid-June.
The arrangement will see Ebury hold the title for the next three years and also sees it come on board as a partner with the club's Super W team.
Super W is Australia's women's rugby union competition that features all five of the country's Super Rugby Pacific clubs.
Over this period, Ebury will feature as the major logo on the front of the Super Rugby Pacific side's jersey, and on the shoulders of the Super W team's jersey.
Ebury Asia-Pacific managing director Rick Roache said: "We are excited to see the Ebury brand front and centre of the Rebels' jersey as they take part in the new Super Rugby Pacific competition.  
"Like us, they are an ambitious and entrepreneurial organisation that has big goals to compete on a global scale. We are very proud to be supporting an organisation with such a strong sense of [its] core values that align to Ebury's, in particular [its] focus on diversity," Mr Roache said.
Mr Roache added that Melbourne is a "true key international city" and vital to Ebury's purpose of "enabling businesses trading internationally to do that seamlessly". 
"The exposure the partnership will give our brand here in Australia and New Zealand primarily, as well as globally, will be fantastic in helping make more people aware of our exceptional organisation," Mr Roache said.
Melbourne Rebels chairman Paul Docherty said: "This is one of the biggest commercial deals that the Rebels have ever done – and shows a great level of support and backing for where our club is going. It is a true partnership that focuses on supporting each other's organisations through both our networks.
"In Melbourne, we have huge international aspirations not just for the Rebels, but for rugby in this city and this state, starting with our aim to play a major part in the Rugby World Cup in 2027 when it is hopefully confirmed later this year.  
"Ebury's support shows the ability for rugby to attract global brands who see the benefits of a truly global game."
[Related: Fintech Ebury appoints new sales manager]