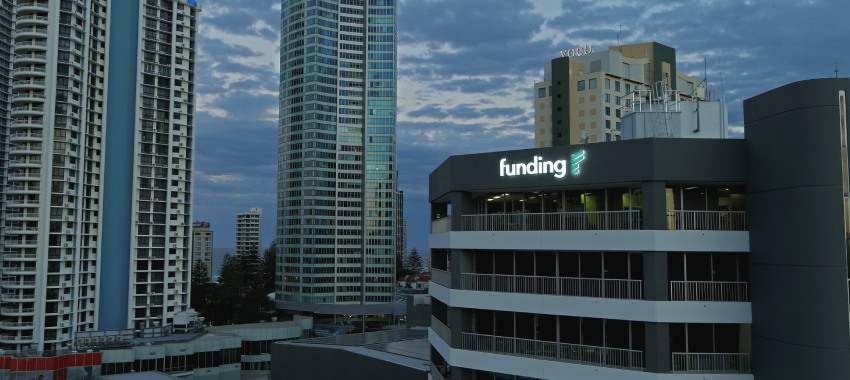 Funding.com.au has scaled up its broker team and digital offer to deliver bridging, building and business loans, fast. Chief revenue officer Lee Slattery shares why brokers are critical to customers and growth.
When did you start working with the broker channel and why?
Funding.com.au was created in 2015 by our founder Jack O'Reilly with a mission to provide fast, simple, and trusted short-term bridging loans for customers that major banks don't focus on. Our broker offer has existed since the company was founded, through relationships with brokers who need a bridging solution for their customer quickly. We have since grown the channel to three BDMs, a Partnership Manager and our Broker support team, joining the AFG lending panel some time ago, they remain great partner and more recentlywe joined the VOW panel. We continue to look for aggregators and brokers to partner with to offer their customers our unique funding solution.
Why is a strong broker channel important to you?
We believe brokers offer something lenders can't, they are available when the customer needs them, and they have the customers interests at heart by providing great customer service and lending advice when they need it. Lending at any time can be stressful, particularly when you may need a loan quickly or when other lenders won't help you, so having a trusted adviser like a broker to help navigate that time is extremely valuable to customers. Funding was created to help people find loans when they need them, and it's often on a short time frame, when they really need help. Having brokers offer funding to their customers brings our products to more and more people, which is critical to us in helping as many people as we can and achieving our goal of being the number 1 choice for short-term, property-secured loans. We know people want loans with speed and transparency from someone they trust, brokers provide that which is why Funding is fully committed to partnering and growing with brokers.
What is the company currently focused on/top area of work at the moment in terms of broker channel?
We have a great product, so we are focused on keeping rates as low as we can and have made our fee structure simple and transparent, including capitalising interest so there are no ongoing fees or interest charges. Because we are digital led, our ability to offer bridging, building and business loans fast though our technology is our real point of difference. Our people and technology mean we are accrediting brokers within an hour, quoting on loans instantly, approving loans within two hours and can settle a loan within three days.
We are continuing to focus on our speed for brokers, to support this we have grown our lending and credit teams and made our credit team available to brokers directly to discuss scenarios and applications. We have also increased our support by growing our BDM team to have someone in every state, available to support brokers, workshop deals, handle scenarios and can quote deals instantly or support with any product training required.
What kind of tools and support do you offer brokers? And how do brokers access them?
We already accredited brokers within an hour and give them the ability to quote online and lodge directly through our website or aggregator portals, it's all-digital and on our website. We were very excited our broker portal launched in July, this shows our commitment to have brokers as a true partner and own the customer, by enabling brokers to submit and track their quotes and applications and see their loan portfolio with us. We have also launched our broker tool kit that includes our product guides, credit manual, fact sheets, customer guides and forms and product education and training modules for brokers.
Why should a broker look to partner with you?
Our products are great solutions for their customers, we lend from $20,000 to over $10 million up to 36 months with great rates, lending up to 65 per cent LVR and above, with a simple and transparent fee structure including prepaid and capitalise interest, so the customer has no ongoing fees. Our products are built and delivered digitally to meet whatever time frame or scenario the customer needs may have on a bridging, building or business loan. Our broker model is built to support brokers by being fast, accreditation within an hour, approval and a common-sense credit decision within two hours and settling loans within three days. We also pay commission at settlement, with no clawback. We see brokers as a true partner, and we want to help them grow their business with a unique offer for them and their clients.
For more information visit www.funding.com.au/brokers or to speak to your Funding BDM.
Lee Slattery 
chief revenue officer