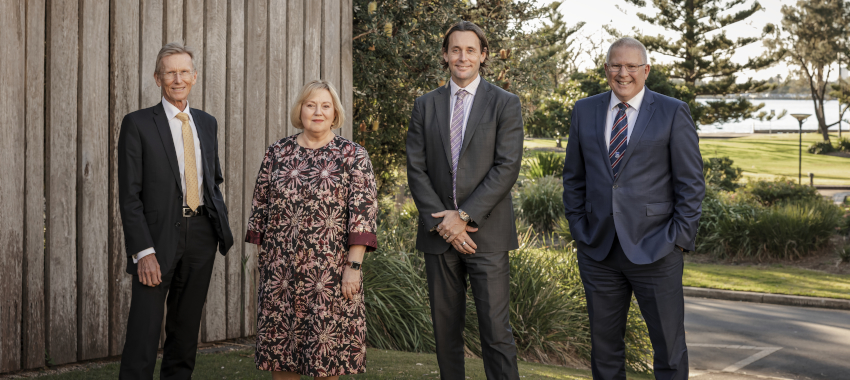 The union of the two mutual banks has taken its next step, with the leadership of both companies endorsing the concept.
The merger between Newcastle Permanent and Greater Bank is on track to eventuate, with both of the bank's board of directors unanimously agreeing to the junction.
It's expected that the decision will likely be taken to both company's shareholders before the end of the calendar year, following a review from APRA.
The concept of this merger was first announced in August, with both mutual banks confirming they had signed a memorandum of understanding.
Under the arrangement, both of the Hunter Region-based brands will continue to exist while also combining workforces. 
It's been said that there will be no forced redundancies or changes in branch numbers for at least two years. 
Greater Bank chair Wayne Russell is currently expected to be chair of the combined entity, with Newcastle Permanent chief executive Bernadette Inglis as CEO. 
Mr Russell said of the merger: "The due diligence process has confirmed our initial view that this is the right time to bring together our two organisations, which in their own right offer exceptional financial strength built on years of solid performance.
"Combining our resources and financial strengths provides an unparalleled opportunity to grow and innovate, to deliver even better value for Greater Bank and Newcastle Permanent customers.
"This has been, and remains, the foundation for entering into such an arrangement.
"Merging will also enable us to keep pace with increasing regulation and reporting, and the rapid advancements in banking technology, both of which require significant investment."
As per previous reports, if the merger is approved, which is still subject to shareholder and regulator approval, the combined entity would possess roughly $19.8 billion in total assets alongside a customer base of almost 600,000.
Further, this entity, according to both mutuals, would benefit from "the shared capabilities of both brands, investment and technology enhancements to continue to deliver a best-in-class customer experience". 
Newcastle Permanent chair Jeff Eather commented that the merger is a "highly compelling opportunity to grow and compete on our terms".
"Importantly, we remain fiercely committed to being customer-owned and continuing to invest profits for the benefit of our customers and the communities we serve," Mr Eather said.
He later added that the combined assets and customer base will create "one of [Australia's] largest customer-owned financial institutions", an act that would put both banks in an "incredible position to be a real challenger and remain a significant competitor in the banking sector".
However, according to previous statements, the merger also appears to be an act of survival.
Speaking in the wake of the memorandum of understanding, Greater Bank CEO Scott Morgan echoed APRA deputy chair John Lonsdale, suggesting that the sustainability of the mutual bank sector is only realistic for its bigger players.
Both Greater Bank and Newcastle Permanent have previously stated that a decade ago, there were roughly 200 mutual banks in Australia, and that as of August 2021, there were less than 70.
Mr Morgan said: "Our DNA is built in our collective histories, but our future is not guaranteed by standing still, or looking in the rearview mirror at past success. Success in the banking sector, more than ever, is dependent on the ability to adapt rapidly to meet evolving customer expectations and new regulatory demands...
"We must, and will, continue to respect the needs of our current loyal customers, but there's no doubt that there has been a seismic shift in customer behaviour, which has been driven by changes in technology."
Mr Morgan added that it's critical for mutual banks to adapt their "business and work with like-minded people" to deliver the banking services and products its customers "need today, or want in the future".
"Unfortunately, it's a fact of life that smaller organisations can be a disadvantage in keeping pace with the required investment in frequent and complex technology advancements," Mr Morgan said.
"Mutual banks without scale and financial strength will, in the longer term, be unsustainable."
[Related: Bank CEO pledges to maintain broker offering following merger]