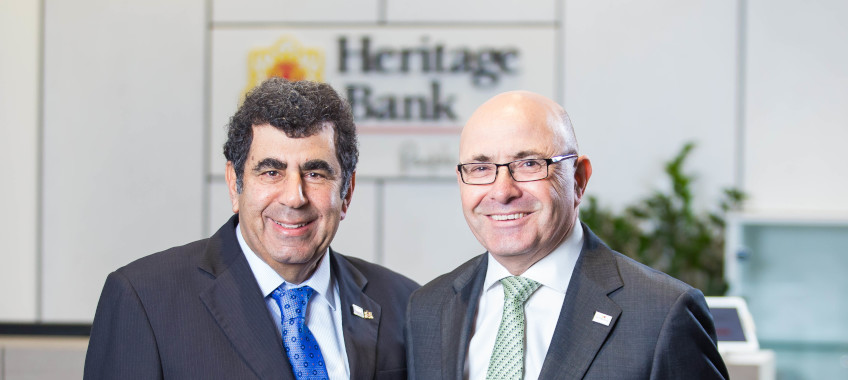 The chairman and chief executive of Heritage Bank have addressed concerns about the bank's proposed merger with People's Choice Credit Union, reiterating their belief that it would benefit members.
On Wednesday (27 October), Heritage Bank held its annual general meeting for 2021, reviewing the performance of the bank over the last financial year and its future vision.
You're out of free articles for this month
While addressing members, the chairman Kerry Betros and CEO Peter Lock both acknowledged that the bank's proposed merger with People's Choice Credit Union, currently still undergoing due diligence, was the "most significant item on our horizon" and set out to assuage concerns relating to it.
Mr Betros commented that while the merger news had received "generally positive feedback from members, along with an interest in finding out more details about the proposal if we do decide to proceed", he added that there was "a small number of members" who had "raised concerns".
According to the chairman, these concerns largely fell into two categories: 
That the bank would become "too big" and "end up treating our members like the big banks treat theirs"

That the merger could "result in a lessening of [Heritage's] commitment to the Toowoomba region.
'Absolutely no chance of [Heritage] becoming a 'big bank'
After reiterating that the proposed deal would be a "true merger of equals, bringing together two organisations of a very similar size, who share a commitment to mutuality and serving our members", he added that it was needed to help the lenders "remain competitive in the banking sector", emphasising that the number of mutual financial institutions in Australia had fallen from around 200 to 70, as more mergers have occurred.
"That's because it's extremely difficult for smaller organisations to survive in today's banking environment," he suggested, highlighting the cost of technology upgrades and compliance requirements, which he suggested place "enormous burdens" on smaller organisations. 
"Size and scale are absolutely crucial to our ongoing success, and that's what our proposed merger will deliver." 
However, he assured members that there was "absolutely no chance of [Heritage] becoming a 'big bank'".
He explained: "The proposed merger would make us stronger and more competitive, but we would remain small enough to keep caring deeply about our members."
Mr Betros highlighted that while the merged entity would have total assets of $22 billion, the Commonwealth Bank [of Australia] has just over $1 trillion in assets (more than 40 times the merged entity size), and the bank would still be "a lot smaller than the mid-size banks like Suncorp or BOQ, which would be around four times our size".
"So, you can rest assured that we would be nothing like the big banks after the merger, absolutely remaining small enough to keep the personal touches that our members love about banking with us, but still having the extra size needed to be more competitive," Mr Betros said.
"In fact, the merger would improve our ability to keep delivering that member-focused service that is such an important part of our culture."
Touching on the second point (relating to whether the 146-year-old regional lender would reduce its commitment to its home town of Toowoomba, the chairman said that the bank had "absolutely no plans to reduce [its] presence in Toowoomba", revealing that "a key component" of any merger agreement would be that Heritage and People's Choice maintain dual head offices in both Adelaide and Toowoomba.
The chairman also unveiled that the bank was planning to build a new, "state-of-the-art, campus-style" head office complex in the Toowoomba CBD, which he said "cements [Heritage's] long-term commitment to maintaining the city as [its] headquarters".
He suggested that the "iconic design" of the building would make it "highly visible from across the Toowoomba CBD and become a city landmark".
Mr Betros concluded that the proposed merger would therefore be "hugely important in ensuring Heritage continues to thrive and serve [its] members well into the future".
The CEO, Mr Lock, also addressed members during the AGM, stating that he "firmly believe[s] that not only is the merger beneficial for Heritage and its members, it is also essential in securing a bright future for this proud organisation".
"The proposed merger with People's Choice means we will remain in control of our destiny, joining with an organisation of similar size and culture to secure our future and safeguard our legacy," Mr Lock said. 
"We believe this merger is an opportunity to change the landscape of Australian banking. 
"We have the chance to build a new, national mutual that can offer a genuine alternative to the big banks. We can create a force for good that opens up the benefits of member-owned banking to more and more people around the country. 
"It's a truly historic and exciting opportunity to lead the expansion of a better way of doing banking – for the benefit of members, rather than shareholders."
While the agreement is still in the middle of the due diligence process, and the Heritage board is yet to give the go-ahead for the proposal to go to a member vote, Mr Lock said that the bank would continue progressing with its "key transformation projects" to ensure it "doesn't lose momentum while the merger proposal plays out".
He concluded: "I want to assure everyone that we are not taking our foot off the accelerator at all and we will continue to do what's needed to be done to maintain the exceptional standards of service that our members are accustomed to. 
"We still have a business to run and members to serve, and that will remain our top priority."
The merger proposal is expected to go to a member vote in the first half of next year. 
[Related: Brokers 'integral' to merged Heritage-People's Choice entity]