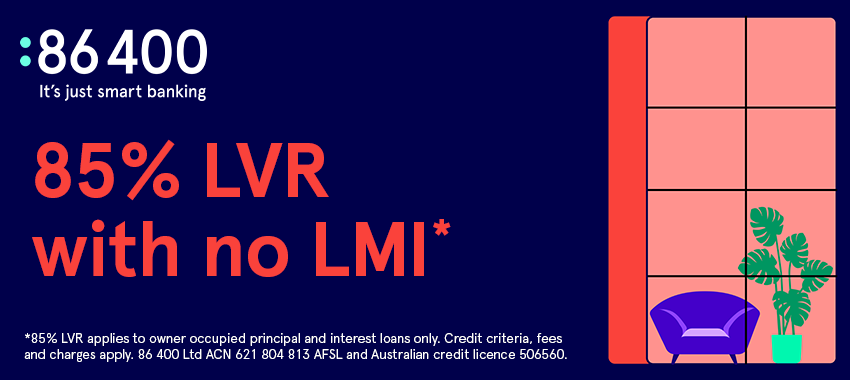 It has been a big year for Australian mortgage brokers. COVID-19 and continued lockdowns across the country had a huge impact on the industry. House prices have skyrocketed, rising more than 20 per cent over the past year, when the typical Australian wage increased only 1.7 per cent. Breaking into the property market has become more competitive and difficult than ever before. In some Australian suburbs house prices are increasing by up to $100k a month. We've seen the digital home loan market thrive though, with more brokers and their customers naturally opting for fully digital mortgage solutions when buying a property during the pandemic.
Amidst growing affordability constraints and changing purchase behaviours, we created a new 85 per cent Loan to Value Ratio (LVR) tier for Owner Occupied, Principal and Interest home loans, and removed the need to pay Lenders Mortgage Insurance (LMI) with a 15 per cent deposit. Removing LMI shaves tens of thousands off the potential cost of buying or refinancing a property and has been warmly welcomed by our broker network and their customers. 
At 86 400, our goal has always been to help our brokers grow their businesses and reach as many Australians as possible with our award-winning digital home loan. We want to help more people take control of their money, and see more home buyers get on the financial fast-track, with smaller deposits and competitive rates. With our market-leading application process, brokers and their customers can secure a home loan approval, entirely online.
Since launching this new offering in August 2021, we've seen an incredible response from the broker community. So many of their customers have saved thousands of dollars with the no LMI offering helping them to jump the deposit hurdle and secure a smarter home loan. This new product is not just for first home buyers, but for refinancers and those looking to upsize, downsize and purchase a new property too. 
As home values increase so does the amount of LMI that customers need to pay,  so this new offer has truly been a saving grace for brokers trying to help their customers get a leg up on the property ladder. Brokers are trusted to help navigate this challenging market for their customers, so the more options and choices brokers can offer home buyers, the better. 86 400 is always looking for ways to empower brokers and open up more possibilities for their customers, and this new 85 per cent LVR no LMI product is just one example of this.
A broker we work with at I Finance Solutions, Heather Clowers, recently shared with me how this new product really helped one of her clients who needed to remove a parent guarantor as their mum wanted to sell their home. They were "still in LMI territory being over 80 per cent and this product enabled them to save thousands and their mum to move without the guilt of costing her kids to do so." She also raved about the easy process and low competitive rates too — all common pain points we know brokers face.  
Another broker in our network, Mike Yorke from RateOne, has also been impressed by how much the new 85 per cent no LMI offer has saved his customers to date, along with the $2k rebate and the incredible ease of 86 400's market-leading application process saying, "it was a no brainer". 
It is really great to see how much benefit our brokers and their customers are experiencing from this new product. Being able to help more Australians break into the property market, especially during the pandemic, has been a silver lining for our team at 86 400. 
And the innovation has really only just begun. In the months to come, we're looking to launch a few more exciting products that solve pesky pain points for brokers and buyers. To help brokers manage the growing demand, we're hiring for more Business Development Managers, broker support and triage teams to help serve our broker community and keep up with surging demand. A real-time broker portal and self-serve tool is also on the cards. This new tool will give brokers real-time access to information they need, on-demand. Investing in more products and giving our broker partners the options they need to help more Australians realise their home ownership dreams is our overarching focus.

At ubank, we're on a mission to help you be more successful with money. Think of us as your daily money companion....