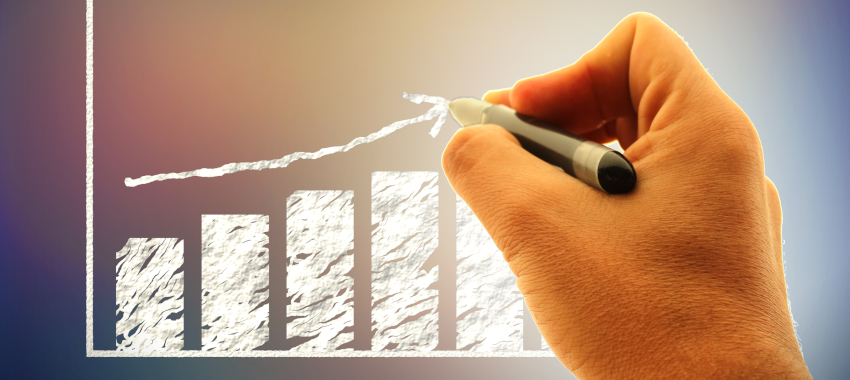 Half of SMEs expect revenue to grow this year but a record proportion is also bracing for revenue decline, according to new data.
According to the latest SME Growth Index, published by non-bank lender ScotPac, the revenue of Australian small and medium-sized enterprises (SMEs) is on an upswing, with 50.1 per cent anticipating revenue growth over the remainder of the calendar year.
The survey, which was conducted by East & Partners and polled 1,255 SME businesses from around the country at the turn of the financial year, found that the average revenue growth would be 4.8 per cent – a 0.4 per cent increase compared to last year, according to ScotPac.
The non-bank's chief executive, Jon Sutton, noted that 57.9 per cent of SMEs were also looking at investing back into the business at the time of interviewing. 
"This brings investment intention almost back to pre-pandemic levels," Mr Sutton said.
However, he highlighted that the research took place over six weeks before and in the early days of the NSW Delta outbreak.
"Findings indicate that if we can get past lockdowns and border restrictions, a slim majority of the SME sector is backing its ability to achieve revenue growth.
"At the other end of the spectrum, negative growth SMEs are finding it tougher than ever."
Largest proportions of forecasted declines
This latest SME Growth Index also revealed the survey's highest-ever proportion of expected revenue declines, with 26.1 per cent of SMEs anticipating a decrease. 
This marked the widest-ever revenue range between growing and struggling SMEs, from +9.6 per cent growth to -15 per cent decline.
Speaking on this development, the CEO said that the survey also recorded the equal lowest proportion of SMEs reporting no change in revenue (23.7 per cent), adding that this suggested "businesses are being forced off the fence and either scaling up for growth or bracing for troubled trading conditions". 
The polarisation is also reflected in the 35.1 per cent SMEs identifying as being within a positive business phase, and a record high of 15.7 per cent reporting an outright decline – a figure that according to ScotPac, has almost doubled since research began in 2014. 
A further 29.5 per cent reported as being stable, while 10.8 per cent identified as a start-up.
"Our past three research rounds have seen consecutive results with the highest number of [declining] SMEs as at any time since 2014," Mr Sutton said.
"Given the optimistic growth prospects of half the sector, combined with the warning signs for the troubled end of the SME sector, the next 12 months are likely to see strong restructuring and [merger and acquisition] activity.
"This is yet another reason for small business owners to ensure they are getting professional advice to guide their enterprises and the right funding to fuel their business activities and allow them to survive and thrive."
Financial position dependent on location
According to Mr Sutton, Victoria's 2020 extended lockdown is being felt strongly by the SME sector, which he believes is a lesson NSW should heed as they look towards reopening. 
But the CEO added that the distinction between those experiencing positive signs and those who aren't is also reflective of location.
According to this latest survey, less than 20 per cent of Victorian SMEs are expecting positive growth, while 60 per cent are forecasting revenue decline. 
Comparatively, more than eight in 10 SMEs in Western Australia, South Australia, and the Northern Territory – areas that have experienced little-to-no lockdown restrictions – are expecting growth. 
Queensland, another state relatively unaffected by COVID-19, had 73.8 per cent of its SMEs state they expected positive growth in 2H21. However, not every industry is exempt from this positivity, with Queensland predicting a revenue decline (2.2 per cent) expected to experience the largest decline in the country (6.1 per cent). 
SMEs in NSW reported moderate results, with 40 per cent forecasting revenue growth and over a quarter expecting a decline.