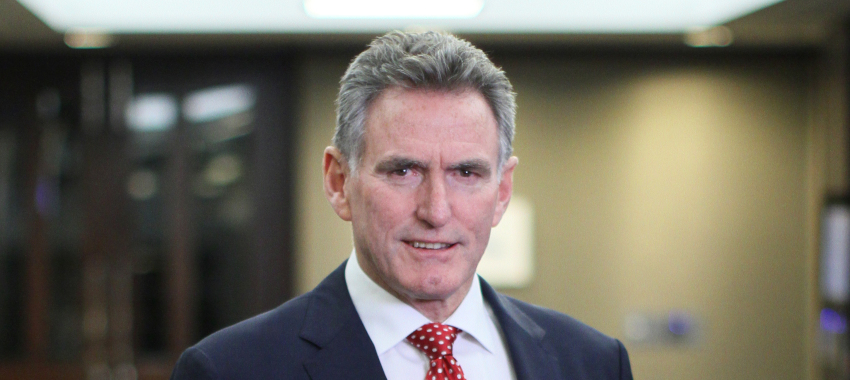 Ross McEwan has confirmed that turnarounds differ depending on complexity and channel, with the direct channel able to approve "simple" loans in less than a day, while broker channel is taking around 12 days.
Speaking at the economics standing committee hearing for the Review of the Four Major Banks and other Financial Institutions on Friday (16 April), NAB CEO Ross McEwan was questioned about the bank's turnaround times for mortgages.
Building on questions asked of both CBA CEO Matt Comyn and Westpac CEO Peter King the day prior, committee chair Tim Wilson MP asked: "What's the current time frame for 'time to yes' for an application for a mortgage product?"
Mr McEwan confirmed that turnarounds were different depending on channel and complexity.
He responded: "I'll give you the range because we have various ways of a mortgage coming into this organisation at this point of time. So, if you're coming through a broker for a home loan, it would be an average around 12 days, remembering the averages have ends to them."
(However, according to brokers responding to the March 2021 Broker Pulse survey, the average turnaround for a broker-introduced residential mortgage at NAB was below this number, at 9.4 days, down from 9.9 days in February.)
He continued: "For a simple home loan through a branch, or through one of our mortgage internal team, 50 per cent is in less than a day and 50 per cent is [in] five days," Mr McEwan said.
The CEO was asked by Mr Wilson what accounted for the range in turnarounds.
While Mr McEwan did not touch on why the turnarounds differed by channel (nor was he asked), he did reiterate that the "time to yes" was dependent on loan complexity.
According to the NAB CEO, the fastest turnarounds from the direct channel (under a day) were due to a "simple home loan process [NAB has] put into the market over the last six months".
"Remembering what it says; this is [for a] simple home loan. That started off with a single person taking out the loan, and it is now to two people who are jointly taking out a loan i[n] what we call a simple home loan.
"But if you're starting to get into trusts and complex lending, you're usually in our business bank basis, and on that basis it's around 15-20 days... The same with our white label operation [Advantedge], it is probably around seven days.
"So, there's quite a variation, but it does rely on the complexity of the loan – it can be as simple that if it's a simple loan, then 50 per cent are less than a day."
The NAB boss also suggested that approval times could be increased on business loans if the law was amended to enable digital signatures.
The chair of the committee picked up on the theme that was put to CBA and Westpac on Thursday, asking: "[T]he Commonwealth Bank says that the difference between having digital signatures on contracts for business lending takes the average time of processing from six days to 24 days. And Westpac said 10 days. What would it be in the case of NAB?"
While neither Mr McEwan nor the chief risk officer Shaun Dooley had exact numbers, Mr Dooley acknowledged that it is "a friction point in speedy fulfillment process". 
The NAB CEO suggested that it would be "five to six days minimum" given that, "if it's a physical wet signature, it has to go out to a customer, it has to be signed, and come back again".
He therefore added: "That would be something we would encourage... to [enable] a digital signature and make it applicable to all contracts."
Turnaround channel conflict in focus
The issue of turnarounds has been of increasing concern for the broker channel, given that it directly impacts on their service to customers. Indeed, brokers are increasingly becoming detractors of lenders due to long turnaround times, a perceived inconsistency of credit decisioning and a lack of transparency on application progress. According to the latest Broker Pulse survey, which each month asks brokers to rate their experience of using lenders, the average Net Promoter Score (NPS) hit -10.18 in March 2021, the lowest point since the inception of the Broker Pulse survey in 2019.
This figure was down from the previous low, set in February 2021, when lender NPS was at -3.02.
As approximately 60 per cent of all mortgages in Australia are written by the broker channel – and given record levels of mortgage applications amid a booming housing market – the delays processing broker-introduced loans has a wide-reaching impact not only on borrowers, but on the broker proposition.
According to the Broker Pulse survey, undertaken by Momentum Intelligence in partnership with The Adviser, turnarounds at the larger banks have blown out for the channel, particularly in the last six months.
While CBA CEO Matt Comyn suggested that part of the delays have been caused by a surge in broker lodgements, the broking industry has been concerned that the banks have been prioritising their own channels (direct) over the broker channel, which could cause competition issues.
A recent update from the Mortgage & Finance Association of Australia (MFAA) CEO, Mike Felton, said earlier this year that he was "convinced" that channel conflict was "alive and well".
"[I]t does seem evident that, at a time when resources are tight and volumes flowing, it does appear that broker channel SLAs blow out and yet branch seems to remain fairly stable," he said.
The MFAA CEO said that there had also been a "strong acknowledgement of the problem" from several lenders, and that all four major banks had expressed "a genuine and absolute concern" about the issue "and are working hard to resolve [it]".
"[A]ll four of the majors expressed to me that their intent is to get alignment in processing times between first and third-party channels," he said. 
Both Westpac and CBA have stated that they are working on improving their turnarounds for the broker channel.
ANZ CEO Shayne Elliott is the last of the big four bank CEOs to front the committee, and will appear on Friday afternoon (16 April).
Find out more about the turnaround time issue and the Broker Pulse survey in our quick explainer video, below:
[Related: Westpac pledges to improve turnaround times]