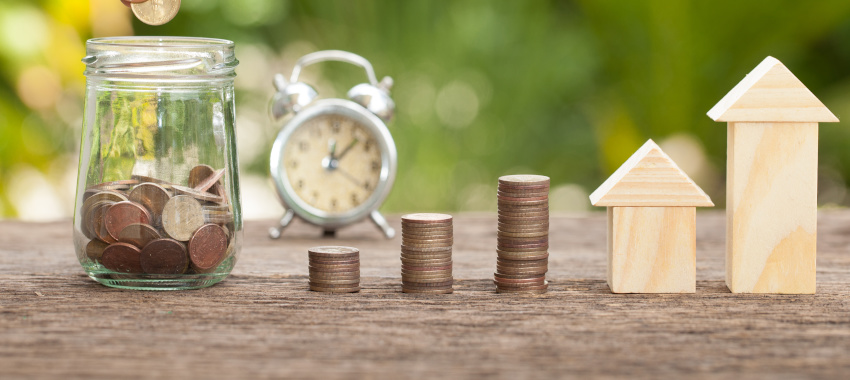 Women would need 10 months longer to save for a 20 per cent deposit than men due to lower incomes, according to new research.
CoreLogic has released new research revealing the existence of a substantial gender gap in home ownership across Australia.
According to CoreLogic's inaugural Women and Property: State of Play report, released on International Women's Day (8 March), men are able to enter the property market sooner, meaning they have more time in market and therefore have greater wealth accumulation.
The report analysed a 2021 snapshot of property ownership by gender across the country, matching the gender of home owners with 41.2 per cent of Australian properties (i.e. excluding properties with joint ownership).
It found that there were higher rates of property ownership among men than women, with property exclusively belonging to owners identified as female representing 26.2 per cent of those analysed versus 29.9 per cent for owners identified as male.
"CoreLogic estimates Australia's residential real estate to be worth over $7 trillion. Given there's a high level of equity held in real estate, if you don't own property, that's a big source of household wealth and security you don't have access to," said Eliza Owen, CoreLogic's head of research and author of the report.
With property ownership considered a "pillar" of retirement, Milena Malev, CoreLogic international's GM financial services & insurance solutions, stressed the implications women's lower ownership could have on future living standards and health care access.
"This wealth gap becomes a particular challenge around retirement, and it's well documented that if you still have rental or mortgage costs at the time you retire, then you have a much higher incidence of falling into poverty," Ms Malev said.
How to bridge the divide
CoreLogic found a direct correlation between the gender pay gap and home ownership based on the average weekly full time earnings for men and women, which revealed that it would take women an additional 10 months to save for a 20 per cent deposit (based on the median Australian dwelling value as at January 2021).
Corelogic has suggested that single women may be even more disadvantaged given their high part-time employment participation.  
"The core of this analysis and its findings is that it's all about wealth inequality and income inequality, and that doesn't just span between men and women, it spans among women as well - including those that are single, sole parents or part time workers," Ms Owen said.
In order to ensure a boost in equality, CoreLogic stressed the need for long-term policy changes to address the gender pay gap and gender wealth gap.
"For government, there are implications for the provision of social support. The gender pay gap appears to be creating a barrier for entry into the property market among women, and this is amplified for single or lone adult households. Women are more likely to exit property ownership after the dissolution of a marriage and that's where we see women over 50 among the highest growing rates of homelessness in Australia.
"Savings and investment solutions from lending institutions for those on lower and/or single incomes can help provide a leg up into the wealth accumulation that is associated with property ownership," Ms Malev said.
However, the research also revealed higher rates of female ownership of property in major cities where dwelling values and incomes are typically higher. Areas with more expensive housing were found to have higher rates of female property ownership. For men, it was a negative correlation, so the less expensive the area, the higher the rate of male ownership.
Of the 76 markets analysed, there were 7 sub-markets of Australia where rates of exclusively female ownership were higher than the rate of exclusively male owned properties. The biggest difference was across the 'Inner South' region of Melbourne, where 32.6 per cent of property is exclusively owned by females, compared with 27.6 per cent of properties analysed being exclusively owned by men, and 39.9 per cent having mixed gender ownership.
The highest rates of exclusively female ownership was in the Eastern Suburbs of Sydney, where the properties analysed saw 34.8 per cent exclusively owned by women versus 31.7 per cent exclusively owned by men.
The largest discrepancy between exclusively male and female ownership in property was across Regional Western Australia, where female owned property represented 19.8 per cent of those analysed compared with 29.3 per cent owned by men.
Greater Melbourne and Regional Victoria were the areas with the highest level of gender parity in ownership rates, with less than 2 percentage points separating male and female rates of ownership. Melbourne also had the lowest rates of properties owned by mixed genders at 38.4 per cent.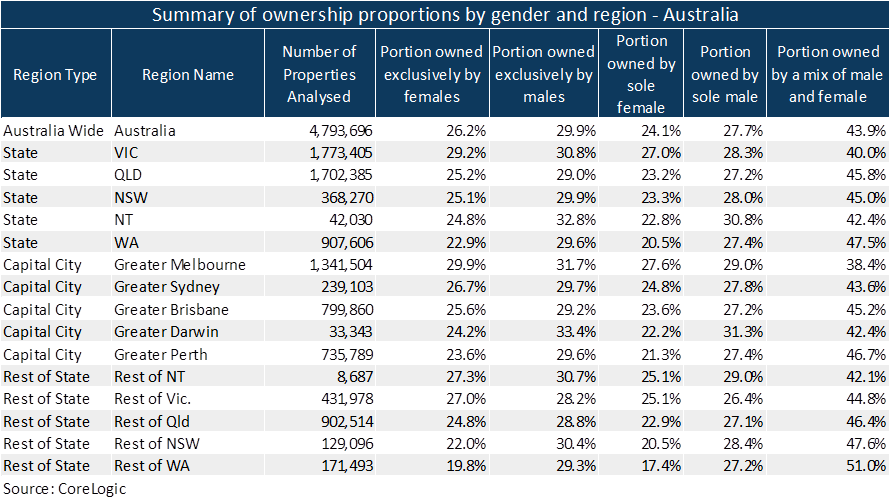 [Related: COVID accelerates home ownership intentions]