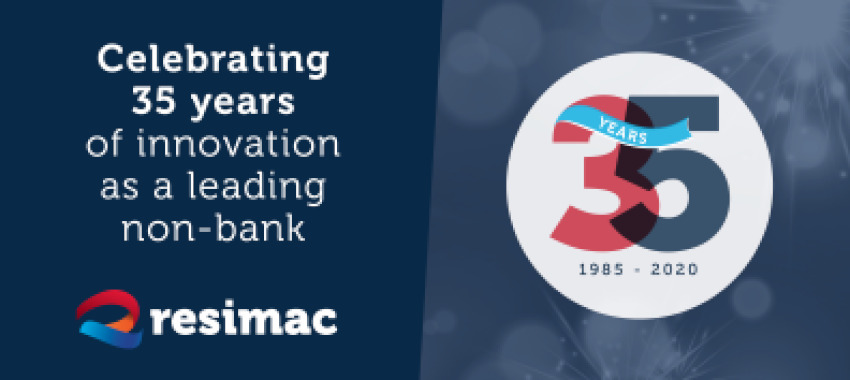 The non-bank lender has marked its 35th year of operations, reflecting on its progress since 1985.
Resimac Group has celebrated 35 years of business as a non-bank lender.
The group was formed from a merger of two businesses that were both established in 1985: RESIMAC (originally known as FANMAC) and the ASX-listed Homeloans (originally known as International Financing & Investment). 
The merger occurred in 2016 and combined RESIMAC's securitisation program with Homeloans' loan distribution speciality, creating one of the largest non-bank lenders in Australia. 
It was renamed Resimac Group Ltd in 2018, with the two brands consolidating and relaunching as Resimac.
Today, Resimac Group has over 250 people operating across Australia, New Zealand and the Philippines. 
It reportedly has in excess of 50,000 customers and has issued more than $30 billion in global fixed income markets, with assets under management of almost $15 billion.
The lender offers a full suite of home loan solutions for a range of borrower types, and is particularly well regarded for its prime loans. Earlier this year, brokers ranked the non-bank lender in first place for its prime owner-occupied loans and prime investor loans in the 2020 Non-Bank Product of Choice Survey.
This year, Resimac launched an end-to-end digital loan origination process and reported a record cash net profit of $55.7 million (up 79 per cent from the previous year).
It has also been busy this year issuing RMBS transactions, issuing a $500-million transaction in May 2020 and pricing a second $1-billion transaction in July.
In March, the non-bank announced several changes to its board, including the appointment of Warren McLeland as chairman following the retirement of Chum Darvall.
CEO Scott McWilliam reflected on the company's history and evolution since its establishment in 1985, noting the "extraordinary amount of progress and change" the lender has been through over the past three decades.
Mr McWilliam commented: "This is a milestone we're proud to celebrate. In 35 years, our company has experienced an extraordinary amount of progress and change.
"Back in 1985, interest rates averaged 13.5 per cent and the median house price was between $50,000-$75,000. Now, interest rates are the lowest they've ever been, and the median house price is close to $1 million.
"We live in a very different world to when Resimac first started, but our DNA as a pioneer has remained a constant, seeing us blaze a trail for non-bank lending in Australia. 
"We have worked closely with mortgage brokers for several decades to democratise and reshape the lending industry, and we expect to continue doing so for many decades to come," he said.
[Related: Resimac moves to digitise loan process]