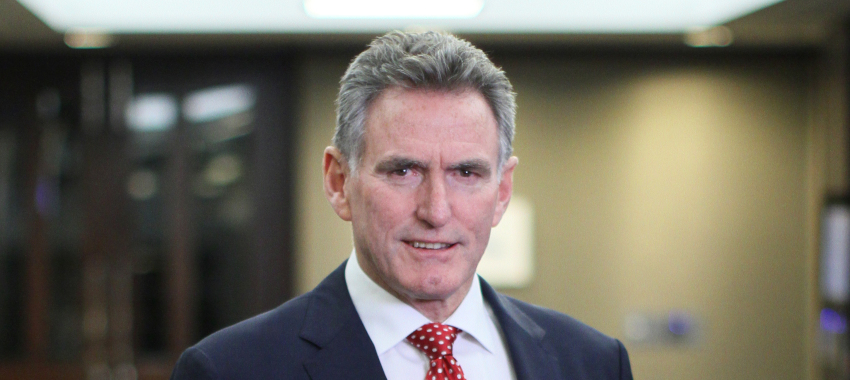 NAB CEO Ross McEwan has outlined why take-up for the Coronavirus SME Guarantee Scheme has been low in his first appearance before the standing committee on economics.
On Friday afternoon (11 September), the chief executive officer of National Australia Bank (NAB), Ross McEwan, was called to his first hearing of the House of Representatives standing committee on economics" ongoing review of Australia's four major banks and other financial institutions.
As the fourth major bank CEO to face the hearing (following CBA and ANZ CEOs the week before and Westpac CEO Peter King earlier that day), Mr McEwan was asked how the bank had been operating since the COVID-19 pandemic began and what support was being offered to customers, among a range of other topics.
Mr McEwan revealed that the bank had provided around $2.4 billion per month to businesses since the pandemic began and had deferred repayments on 77,000 home loan accounts and 37,000 business loan accounts. 
"Since June, our bankers have been doing check-in conversations with almost 40,000 home owners on deferrals and, pleasingly, 15 per cent have chosen to start paying down their loans again," he said.
"For those continuing to need assistance, we are helping in many ways, from further deferral to going interest-only."
However, the NAB CEO said the bank was also conscious of lending responsibly, stating: "[W]e will sometimes need to make the hard but right decisions. Lending more money to customers who have little chance of repaying it will cause more harm in the long term. I saw this in the UK, and it was an important lesson from other customer cases this committee is aware of.
"I am acutely aware that these customers may approach their member of parliament questioning our decisions not to lend.
"Even though looking after customers will at times mean saying no, we will be compassionate when dealing with something as painful as selling a home or closing a business," he said.
The major bank CEO was questioned by the committee about the number of business customers utilising business overdrafts to support their businesses.
Andrew Leigh MP, member for Fenner and shadow assistant minister for treasury and charities, asked Mr McEwan why NAB had approved fewer SME Coronavirus Guarantee Scheme loans than overdraft or short-term credit arrangements. 
According to Mr Leigh, approximately 5,000 NAB business customers were utilising overdrafts in May 2020.
Mr Leigh said: "Certainly, when we last collated the figures on overdrafts, NAB was leading the pack for the majors. I'm concerned that instead of extending low-interest loans, you're stretching out overdrafts, which might carry a higher interest rate. Why do you have so many customers on overdraft? Are you steering them towards overdrafts?"
Mr McEwan responded: "No, we're actually working with them on what best fits their business needs for their business. And that's why the conversations are being had. We had a flurry of customers ringing us when the Coronavirus SME Guarantee Scheme came on board. 
"Many of them actually rang in – we had, like, 20,000 calls – and a lot of them thought it was free money and that they didn't actually have to pay it back. That certainly finished the conversations off quite quickly [when they understood that it wasn't the case]."
Mr McEwan went on to outline that the Coronavirus SME Guarantee Scheme (which had supported just 15,600 business loans worth $1.5 billion up to July 2020, according to Treasury figures) was not always the most appropriate option for business customers.
"When JobKeeper came in, we had a lot of customers [who]... took an overdraft because of the time it took to get the money. [They would] pay the wages and then get the JobKeeper payment back and reduce the overdraft, instead of taking a three-year loan and being caught in the three-year loan as opposed to something they could pay off in three months," he said.
"When the SME Guarantee Scheme didn't take off like everybody thought, [people] were saying what's happening? Why aren't [SMEs] using it? You can't be lending to them. But… there are a number of facilities that the customer has today that they can use that may be better than an SME Guarantee Loan for three years. So, what is best for the customer is what we have been working on.
"So, there were a lot of conversations with customers. Certainly, there was no incentive for any of our staff to put someone into an overdraft when they are better off with an SME Guarantee loan."
When asked whether business overdrafts were more expensive than the SME Guarantee Scheme loans, Mr McEwan replied: "Not if it's only for a month. [Businesses were] paying the money on wages, and then receiving the rebate or the money back from the [JobKeeper], despite the fact that the SME Guarantee Loan was 4.5 per cent for three years."
He added: "This is up to a customer as well. They don't want to extend into a lot more debt if they can actually see themselves through over two months. 
"It's up to them. A lot of them said, 'Just extend my overdraft and we'll pay it back when we get the money in', which is what the vast majority of them actually did."
Moving away from support to stimulus
As well as outlining the actions the bank had been taking, the CEO also outlined his suggestions for keeping the economy afloat.
While he applauded the support that has been given to Australians by the federal government, Mr McEwan suggested that more needed to be done to move away from support to stimulus.
"Australia needs a national plan for living with the virus. We all need this certainty," he said.
"This will come from a nationally agreed approach to reopening the domestic economy and getting our borders open – and keeping them open," the Victoria-based CEO said.
"Without this certainty, we risk wasting the support provided so far and further crushing business confidence."
In his opening address, Mr McEwan also suggested that bringing forward tax cuts, accelerating infrastructure spending in both construction and digital projects, streamlining approvals for residential construction, cutting complexity for small businesses and planning for the return of skilled migration and international students would all be critical to growth moving forward.
He added that increased investment in the digital economy would also be needed in the meantime to "rebuild a stronger, more competitive Australia through practical reform".
"It means energising manufacturing across the country, particularly in high-potential sectors like medical technology, defence, agriculture and clean energy," he said.
"And it means targeting our investment in skills, education and research. This is how we will get our share of jobs for the future.
"The responsibility for this is not just on government. Businesses like NAB must step up, and we will."
[Related: SME Guarantee Scheme shortcomings lamented]