The new NAB CEO, Ross McEwan, has outlined five key areas he will be focusing on as the group looks to rebuild its reputation in the new year.
Addressing shareholders at the major bank's AGM recently, Ross McEwan outlined his five priorities, which have also been made clear to the group's 34,000 employees. 
1. Get the basics right
"The first is to get the basics right for every customer every time so they can rely on us and know what to expect," the NAB chief said. 
2. Strengthen the bank
A second focus for the new CEO is to ensure NAB remains a safe and secure bank – ensuring that the bank has a strong capital base and liquidity to fund customer needs. 
Mr McEwan also said the bank will need "resilient systems and technology that flex, move and meet the demand of customers."
3. Improve culture 
This is a major priority for every financial institution and has been on the prudential regulator's radar. 
"It will be our colleagues who, working together, will do the right thing for our customers and ensure we deliver more consistently. We need to make NAB a good place to work, with a culture that supports our aspirations," Mr McEwan said. 
4. Simplify the bank
One of the most overused expressions among major bank bosses in recent years has been a promise to create a "better, simpler bank". NAB's CEO uses a similar party line: "To use these foundations to make it easy for customers to do business with us – when and where and how they want to. We all need to remember that we exist because our customers choose to do business with us."
5. Growth 
"When we put these four elements together, we will grow," Mr McEwan said. "Our focus is to grow safely, in a way that does not compromise long-term sustainability and success – and, importantly, trust. When we get these things right, we will be a good bank that delivers good, consistent returns to you, our shareholders. It starts and ends by getting the basics right and delivering consistently and reliably."
AUSTRAC AML/CTF issues
The CEO's listed priorities come as the bank told shareholders that 2019 had been a "very challenging 12 months" for the bank, after the royal commission "demonstrated the gap between how [NAB has] been operating and how our customers, shareholders and the community expect us to operate".
"We will not let time dull the impact of the royal commission, nor will we gloss over its findings," NAB chairman Philip Chronican said.
He said: "I understand and acknowledge where NAB has fallen short.
"Now, as your chairman, I accept accountability for making sure we change and our customers, our people and our shareholders can all see the benefits of that change."
The bank has also revealed that it may have breached the Anti-Money Laundering and Counter-Terrorism Financing Act 2006 (AML/CTF), with Mr Chronican telling shareholders: "The status and age of outstanding risk issues is transparent, and customer impacts are better understood.
"On this, the board is acutely aware of the risk that our banking services could be used by those with criminal intent, and takes its obligations under the various anti-money laundering, counter-terrorism financing and sanctions laws very seriously.
"We actively support law enforcement agencies in finding and stopping criminals from using the bank to pursue criminal activity.
"Inevitably, given the millions of customers we have and the millions of transactions we process, there will be times when our processes fall short.
"Where this happens, we let our regulator know and we move to fix the issues promptly."
Indeed, the annual financial report for 2019 showed that the bank has reported "a number" of AML/CTF compliance breaches to relevant regulators and has responded to a number of requests from regulators requiring the production of documents and information.
According to NAB, identified issues include "certain weaknesses with the implementation of Know Your Customer requirements, other financial crime risks, as well as systems and process issues that impacted transaction monitoring and reporting in some specific areas". 
While the bank said that the potential outcome and total costs associated with the investigation and remediation process remain "uncertain", they could be "significant". 
Mr McEwan told shareholders: "It is non-negotiable to manage financial and non-financial risks to protect our customers and your bank.
"As CEO, I will engage constructively with our regulators. Our interests are aligned. Regulators want safe, sound banks that look after customers. We want the same.
"I will quickly tell them when we have a problem. I will make every effort to ensure our relationships with regulators are transparent and constructive," he said.
He concluded: "The foundations are there for NAB to be a leading bank in Australia and New Zealand.
"I see great opportunity in our business and take confidence from the people who stand behind it."
The AML/CTF revelation comes less than a month after the major bank admitted to breaching the NCCP in more than 85 per cent of the 297 alleged contraventions regarding introducer-originated home loans. This came after the Australian Securities and Investments Commission commenced proceedings in the Federal Court against NAB over allegations that 16 bankers accepted loan information and documentation from 25 unlicensed introducers in relation to 297 mortgages.
[Related: CBA, NAB clarify start date for FHLDS]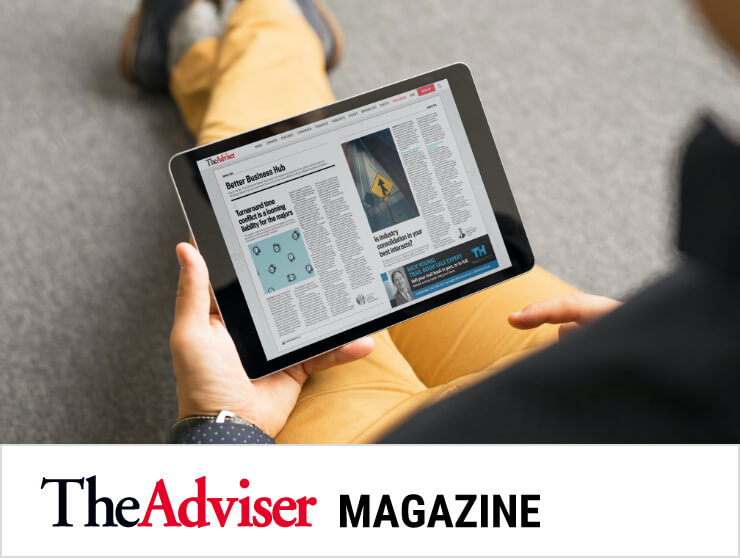 Read the latest issue of The Adviser magazine!
The Adviser is the number one magazine for Australia's finance and mortgage brokers. The publications delivers news, analysis, business intelligence, sales and marketing strategies, research and key target reports to an audience of professional mortgage and finance brokers
Read more