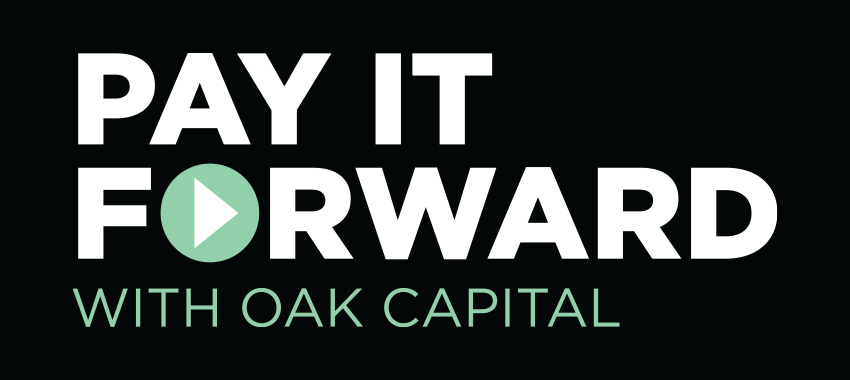 Lockdown has been rough. There's no other way to put it. And we're not here to argue its efficacy or get into that debate, but there's one fact that no one can dispute - SMEs are suffering and have been hit harder than most. Their doors are closed but that doesn't stop the bills from piling up. We understand the pressures on businesses across Australia and want to support those in need.
Trust us, we get it.
We kicked this year off with a rebrand, and the core of that rebrand was a simple message, Oak Capital is here to help. No matter what segment of our customer base you are, we're here for you. And that's why we can't just keep sitting on the side-lines.
This month we have launched Pay It Forward, a new initiative that puts our money where our mouth is. For the month of both August and September we will be relying on Mortgage Broker's to nominate their SME clients. Tell us who they are, why they're struggling, and at the end of the month we'll choose one of them to receive $5,000. That's it. No strings. No conditions. Nothing. Just our gesture that will hopefully help them in a time of need.
If you're a Mortgage Broker and you know a business that's struggling right now, send their nominated business details and how they have been affected by the lockdowns to This email address is being protected from spambots. You need JavaScript enabled to view it.
Entries for August close on 30 August 2021, an August's chosen SME will be announced on 1 September 2021.
So why are we doing this?
Right here is where normally you'd expect some sort of shameless plug about how this is a "great, unique initiative", and normally as a business, when you create a new initiative or product you do everything you can to stop competitors from offering the same. But this isn't about us. It's about banding together in true Aussie spirit and saying, "Hey, are you alright? Maybe we can help". If other finance companies are inspired to do something similar tomorrow, then all we can say is: Do it! Gandhi is often misquoted as having said "be the change you want to see in the world", well, world, the ball is in your court.

Established in 2013 as a specialist mortgage lender, Oak Capital is a Funds Manager and mid-tier non-bank lender....