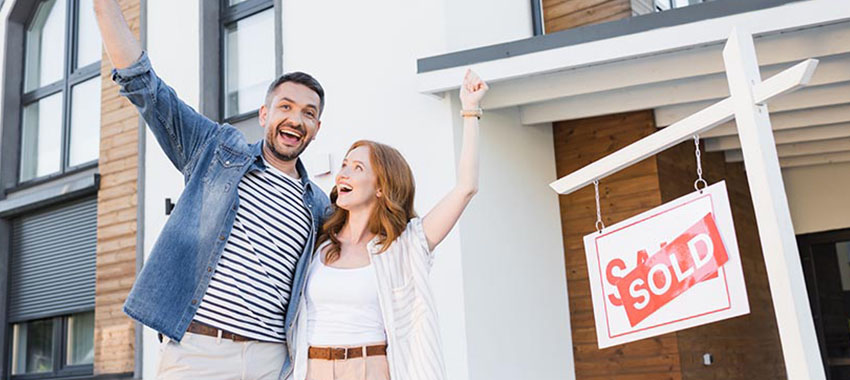 The auctions market remained buoyant despite the long weekend, marking the busiest Easter on record last weekend, according to new data.
Property research group CoreLogic's figures have revealed that there were 874 homes taken to auction across the combined capital cities, representing the busiest Easter on record.
Of the 760 results collected so far, the preliminary clearance rate sat at 79.4 per cent.
The previous week returned the highest final clearance rate on record of 83.1 per cent out of the 3,840 homes taken to auction across the combined capital cities.
Last week, there were 421 auctions held in Sydney, down from 1,410 over the previous week, with a preliminary clearance rate of 85.9 per cent.
This is down from the final clearance rate of 87.6 per cent the previous week out of a significantly larger volume of auctions.
In Melbourne, there were 216 homes taken to auction last week, with a preliminary clearance rate of 75.3 per cent.
In comparison, there were 1,929 homes taken to auction the previous week, with a final clearance rate of 81.0 per cent.
Across the smaller auction market, Canberra recorded the highest preliminary clearance rate with 93.8 per cent across a total of 50 auctions.
There were 100 auctions held in Brisbane, with the city recording a preliminary clearance rate of 61.4 per cent, while Adelaide registered a preliminary clearance rate of 73.5 per cent across 79 auctions.
Meanwhile, capital city home values surged 0.4 per cent over the week across the combined capitals, with both Sydney and Perth recording a 0.5 per cent rise in values.
Values recorded a 2.5 per cent monthly change across the combined five capitals, and rose by 5.8 per cent year-to-date, and 4.5 per cent over the last 12 months, according to the data.
Housing finance activity rose by 6.4 per cent nationally month-on-month, with Victoria recording the largest increase at 14.1 per cent.
South Australia was the only state to register a dip in mortgage market activity, declining by 6.6 per cent.
Home value index rises at fastest pace in three decades
CoreLogic's national home value index rose by 2.8 per cent in March, the fastest rate of appreciation since October 1988, when it rose 3.2 per cent.
Values have risen by at least 1.4 per cent across each of the capital cities and "rest-of-state" areas over the month, according to the figures.
Sydney notched up the most capital gains in March, with figures showing a 3.7 per cent surge in values over the month, and 6.7 per cent higher over the first quarter of the year.
Sydney's dwelling values are now 2.6 per cent higher than their July 2017 peak, with CoreLogic research director Tim Lawless stating that the recovery is "remarkable" after values dropped 14.9 per cent through to May 2019, and a further 2.9 per cent during the coronavirus pandemic downturn.
Similarly, Melbourne housing values have recovered from the 11.1 per cent fall between 2017 and 2019 and the 5.6 per cent drop in values during the COVID-19 crisis to set a new record high in March. Dwelling values were recently at 13.8 per cent above their recent low in mid-2019, and 0.2 per cent above their recent high recorded by the hedonic daily home value index on 6 April 2020, according to CoreLogic.
According to CoreLogic, for the first time in a year, growth in capital city housing values outpaced the regional markets, with regional markets recording a 2.5 per cent gain.
According to Mr Lawless, housing values in regional areas are 11.4 per cent higher over the past year, which he said showed the earlier stronger growth trend, while capital city values are 4.8 per cent higher on an annual basis.
Meanwhile, across the regional markets, gains were highest in NSW, where values were up 2.8 per cent over March.
Victoria was the only state where regional housing values rose at a faster rate than their capital city counterparts in March, with values up 2.6 per cent compared with 2.4 per cent across Melbourne, figures showed.
They also showed that lower-density housing has continued to outperform higher-density housing for capital gains, with house values 3.0 per cent higher over March nationally, while unit values were up 1.9 per cent.
Across the combined capitals, the quarterly growth for houses (6.5 per cent) was more than double that of units (3.1 per cent).
Commenting on the trends, Mr Lawless said: "The last time Sydney housing values recorded a quarterly trend this strong was in June/July 2015. Following this brief surge, the pace of growth rapidly slowed as limits on investor lending kicked in to slow the market.
"March marked several inflection points across the market: Sydney and Melbourne have now staged a full recovery from earlier downturns. With the acceleration in capital gains across Sydney and Melbourne, the larger capitals have started to outpace many of the smaller cities that were previously leading the charge in growth.
"Despite the underperformance, unit markets have turned a corner, with Sydney recording two consecutive months of rising values, while the Melbourne unit market has seen values consistently rising since October last year, with the trend accelerating over recent months."
[Related: Auction markets brace for Easter break after near-record week]