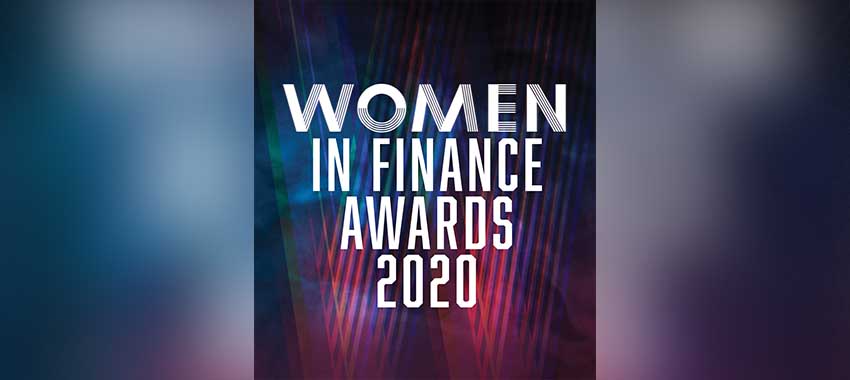 More than 1,100 people registered to watch this year's Women in Finance Awards, which was held as a live broadcast event on Thursday, 10 September. Emceed by writer and feminist social commentator Jane Caro, the event celebrated and recognised the women leading the way in the finance industry. We review what happened on the night.
Ball gowns and flip flops. That seemed to be the dress code of choice for those tuning in to the Women in Finance Awards 2020.
Run in partnership with principal partner AMP Bank, the Women in Finance Awards took place as a live broadcast event this year – as members of the finance industry Zoomed in from their homes, offices and restaurants across Australia to champion the leading women in this space.
Hosted by Momentum Media, the Women in Finance Awards saw 244 finalists compete for the 28 submission-based awards, which are designed to shine a spotlight on the strength, diversity and innovation that female leadership brings to professional and financial services in Australia.
Writer, lecturer and feminist social commentator Jane Caro AM hosted the virtual awards, while Julie McKay, PwC partner and gender equality advocate and commentator (gender adviser to CDF and former ED of UN Women NC Australia), gave an inspiring and motivating speech on the inroads being made in gender equality, how COVID-19 is accelerating new ways of working, and the need for a gender quota (see page 28 for more).
There were 29 winners on the night, including several representatives from the mortgage broking space.
In the following pages, we list all the winners of the 2020 awards – and catch up with some of the winners from this sector to find out more about what they think is the mark of success.
Congratulations to all the winners.
A word from AMP Bank
AMP Bank is proud to be the principal sponsor of the Women in Finance Awards for the second year in a row.
The evening was a fantastic opportunity for our industry to come together to recognise the outstanding women shaping and influencing financial services.
It was a night of celebration, – celebration of women making a difference through contributing and adding value in all aspects of business, and we were delighted to showcase their work and highlight their achievements.
As we continue to face into the many challenges of COVID, and indeed as we progress through to recovery, it's more important than ever to come together to celebrate women making a difference.
While there hasn't been a roadmap or a well-worn path to follow, what was clear in listening to the stories told through the night was the mettle our industry has shown in coming together through the pandemic to support clients at their most vulnerable.
Congratulations to all the award winners, nominees and finalists.
Adrienne Smith
director of distribution AMP Bank
***
Entrepreneur of the Year and Women in Finance Excellence Award winner 2020
Pascale Helyar-Moray
Super-Rewards
What do you think is the mark of a good entrepreneur?
I think there are a few key aspects. The first is a higher risk appetite. The second is being prepared to open up, taking feedback and learning quickly – basically, leaving your ego at the door. The third is being able to pivot quickly. Another is being endlessly curious. Finally, I think the mark of a good entrepreneur is someone who blends all of these qualities together.  
Who inspires you in business, and why?
In the business community, I think Shemara Wikramanayake is a wonderful role model. As CEO of Macquarie Bank, she's a great example of being able to succeed in a highly competitive and male-dominated environment.
Other female role models in business include Cathie Reid, who grew Epic Healthcare from a chain of pharmacies into a multibillion-dollar company. Her growth story is the stuff of legend.
Naomi Simson, too, is someone I admire tremendously; her branding ability, at a business and personal level, is absolutely on point; her signature style became part of the Red Balloon brand and made her immediately recognisable. 
What's the hardest thing you've had to do as a business lead/principal? And what did you learn from that experience?
The hardest part has definitely been when you have to let someone go from the business. Sometimes this is circumstances-related e.g., COVID-19, or sometimes it's because they are simply not the right fit for the role.
In either situation, all you can do is keep communicating and keep them up to speed with what's happening. If budgets need to shrink, then flag that you're revisiting the budgets and let them know why. If they're not performing, make sure they are clear on what you need and why you need it.
If you keep them up to speed – as difficult as it may be – then when you do have to part ways, it's less of a shock for everyone.
Marketing Professional of the Year
Andrea Roberts
Connective Broker Services
 What do you think makes a good marketing strategy?
A good marketing strategy forms a strong foundation for business success. It is made up of the following components:
Know what your offer is – define your service.
Identify who is most likely to use your service and define your ideal clients in terms of income, age, geographic area etc.
Know your competition and understand your competitive advantage – what it is that will make a client choose you over the competition.
Create awareness of your service among your ideal clients. Stay in front of potential clients so that when they have a need for your services, you are top of mind.
Build credibility among your potential clients, instilling trust in your clients that you will deliver what you say you will.
Be sure to stay consistent with your messaging and service delivery.
Maintain a focus on your goals and track performance, looking for opportunities for continuous improvement.
 What should brokers aim to achieve in their marketing?
The events of 2020 have turned the world upside down. In light of an unprecedented health and economic crisis, the need for a robust vision and strategy has never been clearer. Given that rapid change seems to be the new normal, and quick decisions are required more than ever, knowing your market, being able to identify opportunities, then realise these with a well-thought-out strategy will ensure brokers' businesses will not only survive, 
but thrive through this and any future adversity.
It is simple – if you know where you are today, where you need to head and how you're going to get there, you have the start of a strong marketing strategy. Brokers should aim to understand where the growth opportunities are, why you have prioritised those growth areas, what you will do to realise these opportunities, how you will measure success and who will be accountable for each metric.
Who inspires you in business, and why?
I am inspired by the late US Supreme Court Justice, Ruth Bader Ginsberg. An inspirational, fearless leader with a great sense of humour who famously said, "Women belong in all places where decisions are being made."
Mentor of the Year
Sue Hayter
Quality Financial Group
 What do you think is the mark of a good business mentor?
They must have the experience and skills to successfully guide the mentee by sharing their knowledge and expertise, therefore empowering them to fulfil their dreams of being self-employed, self-sufficient business owners (or wherever their path may lead them in the world of employment).
My key leadership and mentoring values are based on a foundation of honesty, integrity and trust, which are supported by habits of excellence and nurtured by a mutual respect for each other.
Who inspires you in business, and why?
Throughout my life, I have drawn inspiration globally from motivational people. As a former 100m and 200m athletics sprinter and hockey player, I have always followed top athletes because I knew that many hours of practice and sacrifice translated into the success of reaching my goal. I have implemented these principles into my business practices.
Working hard in one's business is similar to operating like an elite athlete, like:
Eliud Kipchoge – Kenyan athlete who was born with no privileges and had to work incredibly hard to obtain success. He is the world record holder in the marathon and was the 5,000m world champion.
Nikki Hudson – the Australian former women's field hockey player and captain of the Hockeyroos.
Dylan Martin Alcott – OAM and Australian wheelchair basketballer and tennis player, radio host and motivational speaker.
Margaret Thatcher – the "Iron Lady" who was the first woman to become prime minister of Britain.
Florence Griffith-Joyner – The world's fastest female sprinter and 100m world record holder
Usain Bolt – 100m and 200m world champion.
Currently, I'm also very inspired by Dr Bronwyn King AO, Australian radiation oncologist and anti-tobacco trailblazer campaigner who is educating the world about being ethically correct.
 What's the hardest thing you've had to do as a mentor? And what did you learn from that experience?
The Australian finance industry is highly regulated, and when I first started mentoring I found it difficult to mentor brokers according to my business model and style. I therefore authored my Quality Financial Group mentoring program, which was approved by the MFAA (2014) and FBAA (2016).
I learnt from this experience that having a robust program with proven processes, procedures and a roadmap to remain ASIC-compliant successfully resulted in:
Empowering brokers to work autonomously
Produces excellent customer service outcome
Customers are not disadvantaged.
Mortgage and Finance Broker of the Year
Evelyn Clark
Accession Finance
How did it feel to win the Mortgage and Finance Broker of the Year award?
I was extremely shocked, I just didn't expect it, to be honest! I think it just shows that you don't have to be the number one broker in terms of writing volumes; it's far more about what you actually deliver to your clients now. For me, it really shows the way that broking can go in the future.
I [also felt it] consolidated the work that I've been putting in over the last couple of years and gives me a bit of an indication that I'm on the right track and I'm obviously doing things that are producing fantastic outcomes for clients. So, overall I'm just really excited about it.
 What was your experience of the broking industry when you first started?
When I started in the industry, I was completely surrounded by women. So, my situation probably wasn't reflective of the entire industry at whole. I shadowed a female broker for the first 18 months to two years in my career in broking, and she was incredibly supportive and she also initiated a group of women from the broking industry who came together on a monthly basis. We were all in the broking industry, from various aggregators. It was largely business partners and friends that she had met on the way, and we sat down and discussed and workshopped ideas. So, I always felt very welcomed and supported.
It wasn't until I started going to PD days or larger events that I would be one of only five women in the room. It's funny how perspective changes.
 What do you think could be done to encourage more women into the broking industry?
I always felt very supported and never felt like I had any massive roadblocks being a woman in this industry, but I know from a larger perspective there is a much smaller proportion of women [in finance]. I think the proportion will increase over time, and I think it already is.
So, I think surrounding yourself with other powerful, sought-after women in the field is definitely a part of that process, and providing the environment for that.
 What has been your biggest challenge as a mortgage broker? And how did you overcome it?
Right at the beginning of my career, I was quite nervous and quite shy. Some of the biggest challenges that I had to overcome personally was my own self-esteem and building my confidence. I was often speaking to people who were experts in their own industries and their own businesses who might have been far older than me, and yet I was the person that they poured out their personal and financial information to.
There were times early on where I was petrified of making mistakes. You have to expect that you are going to make mistakes, because no one is perfect, and the best thing you can do is learn from them. It sounds so cliché, but it is one of the biggest realisations and lessons that I had to learn. When I made a mistake, I had to sit down and problem-solve my way through it. 
Once I had an appropriate solution, I could then be quite assertive and say to the client that I had a solution and knew exactly what I could do to fix it. That definitely grew my confidence further.
Principal of the Year
Joanna James
Mortgage Ezy
What do you think is the mark of a good principal/business leader?
A good business leader is one that can set and maintain a beneficial direction for the business while engaging their team to choose to go in the very same direction. This requires an ability to balance imagination with communication, strength with empathy, logic and intuition, drive and discipline. 
Of all the qualities, I aim to embody courage. As Maya Angelou said: "Courage is the most important of all the virtues because without courage, you can't practice any other virtue consistently."
Who inspires you in business, and why?
I first came across Charlotte Gerson a decade ago, when she was 85 years old. At the time, she was leading a dynamic health company and her passion for life was truly inspiring. Charlotte helped me realise that – while soon to be 50 – I am just at the beginning of my career, and the magic of intelligence blossoming into wisdom is one worth waiting for. 
Hearing her speak, I decided that I wanted to be a woman in business who contributes for the duration of my lifetime – no retirement for me!
What has been your biggest challenge as a business leader? And what did you learn from that experience?
Without a doubt, the recent pandemic has been the most challenging time for the business.  This was principally because our entire team, our brokers, our clients and suppliers were all traversing through extreme fear, all at the same time. Providing a steady hand, head and heart for so many people taught me that maintaining faith, in spite of any current situation, is by far the greatest antidote to any form of fear, anxiety or doubt.
In short, mindset is everything; it is the rudder with which to steer any ship.
Individual awards
Accountant of the Year
Sonia Gibsob
Accounting Hear
Accounting Consultant of the Year
Elle Sweeney
Link Advisors
Auditor of the Year
Naomi Kewley
Peak Super Audits
Banking and Finance Lawyer of the Year
Paula Nassif
King & Wood Mallesons
Bookkeeper of the Year
Tamara-Lee Beveridge
BizCore 360
Business Development Professional of the Year
Krystal Rhian
TAL
Chief Executive Officer of the Year
Connie Mckeage
OneVue
Director of the Year
Samantha Robinson
Pursue Wealth
Executive Assistant/Personal Assistant of the Year
Bianca Carroll
SMART Business Solutions
Financial Planner/Adviser of the Year
Jackie Kirkwood
Shadforth Financial Group
Fintech Leader of the Year
Marianne Young
Wisr
Innovator of the Year
Kelly Smith
AIA Australia
Office Administrator of the Year 
Olivia Palfreyman      
Palfreyman Chartered Accountants
Regional Professional of the Year
Shannon Smit 
SMART Business Solutions
Small Business Adviser of the Year
Donna Bates   
On Point! Strategy
SMSF Adviser of the Year
Rosario Carbajal        
Wealth Inspired         
Thought Leader of the Year   
Melinda Howes          
BT
Young Leader of the Year      
Alexandra Grigg         
Artesian (Alternative Investments)
Group awards
Employer of the Year
TAL     
Employer of the Year (SME)
Truon Chartered Accountants
Training and Development Program of the Year     
Mazars
Wellness Program/Initiative of the Year       
Zurich Life and OnePath Life 
Women's Community Program of the Year  
Women with Cents    
Tune in to watch the livestream of the awards ceremony, hear from winners and finalists, and learn who the leading female players are in the Australian finance industry here: