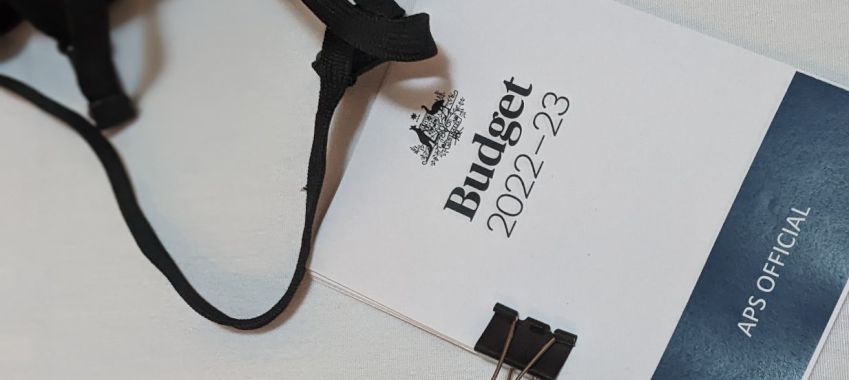 The Morrison government has handed down its federal budget for the new financial year. Here's what you need to know relating to housing and mortgages...
The government has revealed how much it expects to spend on its expanded Home Guarantee Scheme, with this year's budget spelling a large focus on the regions.
Treasurer Josh Frydenberg handed down the 2022-23 federal budget on Tuesday (29 March), revealing a $78 billion deficit (3.4 per cent of GDP). For the previous year, there had been a $79.8 billion deficit.
The cost of living as fuel prices surge, omicron and the effects from the recent floods in NSW and Queensland had taken priority for the government, among other factors.
"The global pandemic is not over. Devastating floods have battered our communities," Mr Frydenberg said.
"We live in uncertain times. The last two years have been tough for our country, there have been setbacks along the way."
But home ownership has also been a major focus in this year's budget.
Mr Frydenberg said: "[H]ome ownership is fundamental to the Coalition.
"HomeBuilder, the First Home Super Saver Scheme and the Home Guarantee Scheme have helped make the dream of home ownership a reality.
"Over the last year, 160,000 Australians purchased their first home.
"Tonight we go further, more than doubling the Home Guarantee Scheme to 50,000 places per year.
"Helping more single parents to buy a home with a deposit as low as 2 per cent.
"Helping more first home buyers to buy a home with a deposit as low as 5 per cent.
"In this Budget we are also increasing our support for affordable housing by $2 billion through the National Housing Finance and Investment Corporation.
"Helping more Australians to own a home is part of our plan for a stronger future."
Home Guarantee Scheme expanded
As indicated on Monday (28 March), the government has extended its Home Guarantee Scheme, expanding the number of places under its First Home Guarantee and its Family Home Guarantee programs, and launching a new scheme solely for regional Australia.
The government has dedicated $8.6 million over the four years from 2022-23 to more than doubling the total number of places under the Home Guarantee Scheme to 50,000 places a year.
The program is expected to cost $1.3 million in 2022-23, $1.4 million in the following year and $1.7 million in 2024-25, before surging to $4.2 million in 2025-26 – when there are more people who have secured guarantees and there is more risk of defaults.
There will be 35,000 guarantees available per year for the First Home Guarantee (previously the First Home Loan Deposit Scheme), up from the current 10,000 from 1 July.
The scheme, started in 2020, allows first home buyers to purchase a home with a deposit as small as 5 per cent, while the government guarantees up to 15 per cent of the property purchase price – helping the borrower skip lenders' mortgage insurance (LMI).
The Family Home Guarantee, which similarly allows single parents with dependent children to purchase homes with a minimum deposit of 5 per cent, will be expanded from 1 July to 30 June 2025.
There will be 5,000 places a year for families.
The government has also launched a new guarantee scheme within the budget, which is specifically geared towards regional buyers.
Under the Regional Home Guarantee, borrowers in regional areas (including those who aren't first home buyers) will be able to buy or build a new home with a deposit as small as 5 per cent, while the government guarantees 15 per cent of the property purchase price.
The scheme will be reserved for residents who have not owned a home in five years.
Subject to legislation being passed, the regional scheme is expected to kick off in the 2022-23 year.
There are other funding initiatives in the budget targeting regional communities, including a new $2 billion Regional Accelerator Program, with investments in infrastructure, advanced manufacturing, apprenticeships and higher education.
As Mr Frydenberg explained, "there is a lot in this budget for the regions", because the government sees it as a key area for growth.
"One of the permanent structural shifts for our economy post-COVID has been more people are moving to the regions," he told journalists.
"You're seeing that in property prices for example in the regions. People want a land and house package, they want that peace of mind and don't want to be locked down in the cities."
Meanwhile, the National Housing Finance and Investment Corporation (NHFIC), which administers the Home Guarantee Scheme, has had its liability cap for low-cost loans supplied to community housing providers, increased by an additional $2.2 billion, to a total of $5 billion.
The rise in lending capacity is expected to support around 10,000 more dwellings.
The government reported that NHFIC has backed around 15,000 new and existing affordable dwellings since it was established in 2018.
Flood response
The government expects to spend more than $6 billion on disaster relief and recovery as a result of the floods, including:
- $2.2 billion to households for income support, temporary accommodation and social services
- $665 million to businesses and farmers for repairs, new equipment and support services
- $588.6 million for community clean-up and recovery, including $300 million from the Emergency Response Fund for recovery and post-disaster resilience
However, the full cost of the floods damage may not be completely realised for some years and it is unclear how much recovery and rebuilding will cost as of yet, with the government issuing a provision of $3 billion over the forward estimates to accommodate additional spending.
The budget papers have also cautioned that the recovery may place more pressure on already constrained supply chains in the construction sector.
Open banking
The government has previously outlined ambitions for Australia to become a more digital economy.
One of the tenets of this has been its Consumer Data Right (CDR) scheme, or open banking, as it's called in financial services.
The government has allocated $38.4 million over the three years from 2022-23 and $12.6 million per year ongoing from 2025-26 to implement the government's response to the Inquiry into the Future Directions for the CDR.
The initiatives resulting have included opening up open banking data to trusted third parties, such as brokers, to take actions on customers' behalf.
The funding will add to the existing $254 million invested in the development and roll-out of the CDR scheme.