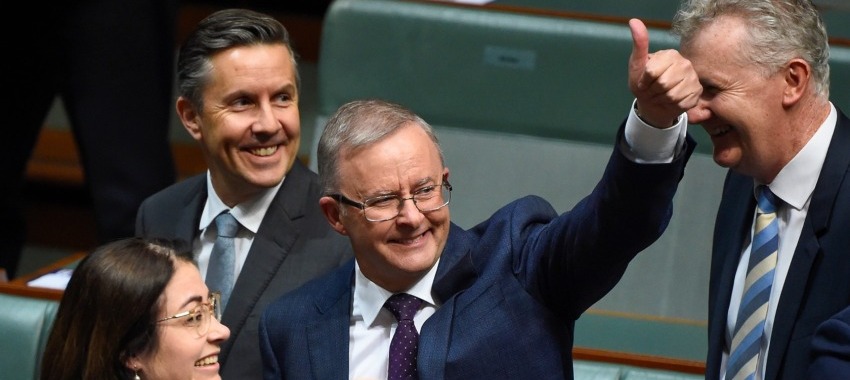 The Labor Party has pitched a housing deposit scheme for regional first home buyers, as the federal election creeps closer.
Opposition Leader Anthony Albanese has laid out a housing plan targeting first home buyers in regional Australia, which would be implemented if a Labor government was elected into power at the upcoming federal election.
Under the proposed Regional First Home Buyer Support Scheme, there would be 10,000 places a year for families in regional areas and eligible buyers would be able to purchase a house with a deposit as low as 5 per cent, without needing to pay lender's mortgage insurance.
The government would provide a guarantee of up to 15 per cent of the property purchased.
It would triple the number of places that regional residents received last year under the current First Home Loan Deposit Scheme, according to Labor.
It would also be reserved for residents who have lived in their region for more than 12 months.
Price caps apply to varying locations, with the maximum of $800,000 being in NSW's Central Coast, Illawarra and Newcastle regions.
While house prices across the capital cities rose by around 21 per cent in 2021, the regions saw a 26 per cent surge.
In certain regional areas, the cost of buying a house grew by as much as 47.1 per cent, which was seen in Wamberal on the Central Coast in NSW.
"With house prices having skyrocketed and a sharp drop in affordability, regional first home buyers need and deserve their own dedicated scheme to support them to buy a home," a statement from Opposition Leader Mr Albanese and Labor MP Jason Clare said.
The proposed property price caps for the Regional First Home Buyer Support Scheme are as follows:
NSW – Illarawara, Central Coast and Newcastle: $800,000
NSW – Other: $600,000
Victoria – Geelong: $700,000
Victoria – Other: $500,000
Queensland – Gold, Sunshine Coast: $600,000
Queensland – Other: $450,000
Western Australia: $400,000
Tasmania: $400,000
South Australia: $350,000
Northern Territory: $500,000
But Labor has said it would review and update the price caps on a six-monthly basis and work on the process of reallocating unused guarantees.
The new election promise has come one week after a parliamentary committee tabled its final report resulting from the recent inquiry into housing affordability and supply in Australia.
The report laid out 16 recommendations for policy changes, including the removal of stamp duty and allowing first home buyers to use their superannuation as collateral for a home loan.
In February, shadow financial services minister Stephen Jones told The Adviser sister brand Mortgage Business that the Labor Party is "deeply concerned" with housing affordability.
In a recent poll by Momentum Intelligence (one of the divisions of Momentum Media Group, the parent company of The Adviser), broker respondents said their top priorities for the federal election were the economy, small-business interests and taxation.
Climate change and the environment; as well as management of COVID-19 also ranked higher in election priorities for the mortgage industry participants, above housing affordability.
Additionally, a significant number of participants indicated their voting would be swayed by party positions on broker remuneration and trail commissions.
However, the government has since decided to scrap its review into broker commissions that was scheduled for later in the year, after the opposition stated there would be no changes to broker remuneration under a Labor government.
[Related: Rem review scrapping a result of 'industry mobilisation': Phil Waugh]