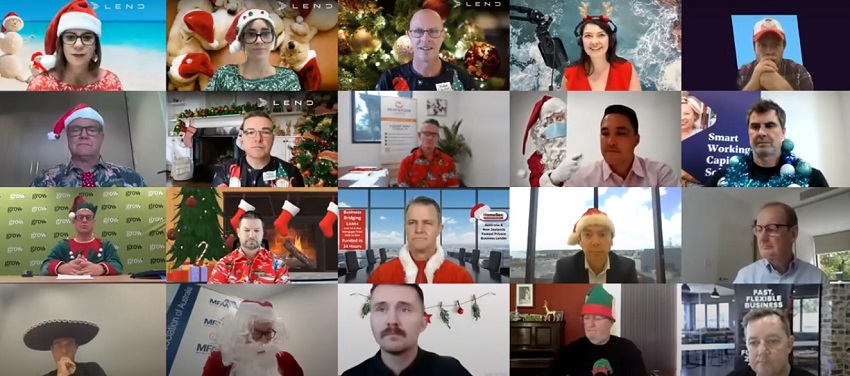 Leaders from the business finance space have revealed their insights for the year 2021 during an online webinar.
On 9 December, a panel of 20 members from across the finance broking space took part in the LendEd 2021 Industry Insights webinar to outline the triumphs and insights from the year 2021.
The webinar – hosted by SME finance platform Lend – aimed to inspire brokers by recognising the year's triumphs, despite the ongoing hardships, and collectively celebrate unity and community. 
It included both professional and personal insights from chief executives, directors, and senior leaders from professional associations, commercial and asset finance lenders as they provided unfiltered commentary to broker viewers (all while dressed in festive costumes).
Reconnection
Lend CEO Bill Baker noted that while the year had "certainly been challenging" as a result of the COVID-19 pandemic and its associated restrictions, there had also been many positives, including learning new ways of communicating, learning new skills, and learning to work more flexibly.
Mr Baker commented that the year had taught him "a great appreciation for the small things that [he] used to overlook and take for granted", revealing that his family was communicating on video calls on a much more regular basis, and that his daily walks around his neighbourhood meant he had met some of his neighbours for the first time in eight years.
"For me, it's actually brought back the simple things that we had actually been too busy in the past [for], and we just used to fly past… So, moving forward with our newfound outlook, appreciation and flexibility, I see a hugely exciting 2022," Mr Baker said. 
For Geof Alexander, the general manager of Zip Business, a relocation from the US to Australia saw him and his family move back in with his parents, which provided cherished moments of intergenerational connection. 
"Seeing my daughters learning Spanish from their grandpa, mowing the grass with gramps, teaching their grandma how to play exploding kittens, doing crosswords, playing Pokemons with cousins… there were just so many experiences that just wouldn't have happened in a normal world if we wouldn't have slowed down," Mr Alexander said.
"So for me, it's really down to that personal experience." 
The general manager of private lender Group and General Finance, Matthew Richards, agreed that the pandemic had taught people to "slow down" and "have better quality interactions" with people. 
"That time to slow down, to reflect, to get to know our customers, our brokers, our staff better, it really allowed me the capacity and the energy to make a lot of changes that we probably should have made earlier" he proffered, such as remote-friendly working," Mr Richards said.
"While it has been quite hard, it's allowed us to make some changes and, in my view, really accelerated a lot of those changes." 
Shifting working relationships 
Sydney-based David Verschoor, the executive director of SME lender Grow Finance, reflected that remote working had seen more businesses trust their employees in managing their own times and workloads, which helped foster a stronger team culture. 
Touching on the fact that Grow Finance itself had seen its team expand over the NSW lockdowns, he highlighted that the lender had to give its staff "autonomy to do their best" and to "trust them [and] tell them to trust themselves and allow them to do the best".
Yanir Yakutiel, the founder and CEO of non-bank lender Lumi, also emphasised how impressed he was by "stoicism and personal agency" as "people worked in very challenging circumstances, juggling their professional responsibility with personal responsibility", and noted that many – including himself – had also prioritised their own health and wellbeing this year.
Jarrod Moore, the national broker manager at financial services, leasing and risk management company Morris Finance, echoed the sentiment that putting more trust and flexibility into teams had helped wellbeing and productivity. 
"If you allow them to do little things during lockdown, whether it's walking kids to kinder or to school, swimming lessons, taking them for a ride around the block at lunchtime, things like that; people will still get the work done…," Mr Moore said.
"It's shown that the right people will do the work no matter what, if you do let them do those other things. It probably increases productivity, we've found." 
However, Guy Callaghan, CEO of Victoria-based lender Banjo Loans suggested that as 2021 had seen Melburnians continue to work remotely for extensive periods of time and largely in silos, there was a need for "people to get to know each other again" and reacquaint themselves with people they may not have seen for 18 months and relearn "what makes them tick". 
"The strength of the joint team coming up with solutions and plans is so much stronger than one or two people being able to do it. So our big one is that yeah, people have changed, it's been really tough. So, it's time to get to know everyone again and really share as many ideas as we can," he said. 
Upskilling and learning new things
For David Gill, the CEO of the Commercial and Asset Finance Brokers Association (CAFBA), the year had showcased "how well everybody's adapted" to the changing environment in both lending and broking.
"All that they want to do is find out what the solution is and how [they] can best do it," he said. 
The CAFBA CEO continued that upskilling and embracing technology was also a key theme, with many finance brokers moving away from filing cabinets and paper-based working to digital solutions and videoconferencing. 
The managing director of asset finance lender Finance One, Jamie McGeachie, told webinar viewers that the last year had taught many to try new things and "be open". 
He provided the anecdote of his learning to play the piano over the last year, but he wasn't a natural pianist, concluding: "Sometimes you just have to realise that you might have a go at things, and you might not be good at things [so] you've just got to find another direction… With change, disruption, innovation, all of those things, you've just got to be open." 
High business confidence 
For Wade Doblo, managing director of Gold Coast-based SME lender Business Fuel, he said he was inspired in 2021 by "the patience, strength and resilience shown in particular by small businesses" that were "determined to keep their doors open, sticking true to their business models and rolling up their sleeves". 
This was echoed by Paul Stone, CEO of short-term business lender HomeSec Finance, who said that while 2021 had been "another rollercoaster year", there was optimism in market with record levels of business start-ups and high business confidence, which he predicted would continue into next year. 
"So if you're a finance broker or a mortgage broker watching this, and you're wanting to do more in the business loan space, you're going to have a really good year ahead," Mr Stone said. 
In the same vein, Joseph Lim, the head of enterprise and platforms at SME lender Prospa, also noted that business confidence was high. 
"With everything that we're seeing happening now, I don't think it's a great resignation, I actually think it's more the great celebration," he said. 
"That great celebration comes off the sense of perspective and optimism that's out there, again with SMEs, with businesses in general, and the fact that everybody's really happy to come together and celebrate." 
Prioritising wellbeing and supporting others 
Jon Sutton, the CEO of non-bank lender ScotPac, said that he was struck this year by the "generosity of human spirit". 
"The way people have cared for each other during what have been difficult times, the way people have reached out to one another, whether it's through family or work colleagues has been phenomenal," he said. 
Stephen Hale, the head of marketing, communications and sponsorship at the Mortgage & Finance Association of Australia (MFAA), similarly noted that there had also been a lot more empathetic connection, noting that "a lot of people started checking in on each other and on people who they may not have seen for a while". 
"That's really proved to be a very simple and magical way to connect..  I think we need to make sure that we're taking that attitude as a behaviour, as opposed to a requirement [and] I hope we maintain that habit as an industry," he said. 
Controlling the controllable 
Cameron Garnham, the executive director of short-term lender Strive Financial, said he had been working on trying to stop worrying about things he cannot control and instead focus on "controlling the controllable". 
"If you [can] work towards your controllables, and you understand what you can control, and you focus on those things, and you understand what you don't have any control over and we forget about those things…if it's meant to be, then it's up to you to get it done," Mr Garnham said. 
The managing director of the Finance Brokers Association of Australia (FBAA), Peter White, reflected that while 2021 may not have been a good year for many, it meant "the best is yet to come".
Outlining that he had undergone five surgeries within the past 16 months, he added: "But you know what? Life constantly throws things at us.. Life gets a bit tough, but we all have our tough periods. We need to push through. We need to support each other… we need to look after one another. We need to be prepared to talk about our mental illnesses and the challenges weFinance Brokers Association of Australia (FBAA), Peter Whitere going through."
You can watch the LendEd 2021 Industry Insights webinar below: